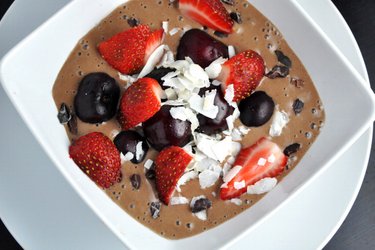 Healthy Cocoa Ice Cream (Gluten-Free, Sugar Free)
Share this recipe with a friend:
I was so much looking forward to prepare this ice cream. I'll try to transfer this joy to you and share the interesting recipe in which the healthy cocoa ice cream and your sweet cravings play the main role. This homemade ice cream is sugar-free, it's diet, but it's sinfully tasty and will even please with high fiber content.
If you like the genuine taste of sweet cocoa ice cream and prefer it's healthier version that will not encumber your body with worthless calories and high fat, immediately take a look in the refrigerator and food boxes as this recipe is right one for you. Only bananas, cocoa and plain (greek) yogurt is needed to prepare it. I recommend using low-fat greek yogurt because it has higher protein and calcium content and is more creamy than traditional plain yogurt. To make the resulting effect more appealing, you can add your favorite fruit, cocoa nibs or coconut chips to the ice cream cup. Alternatively, we can mix in protein powder to increase the protein content in the ice cream. Here you are, tasty homemade cocoa ice cream like from a genuine Italian ice cream shop.
This delicious and healthy cocoa ice cream is prepared within just a few minutes and you only need 3 common ingredients to make it. Moreover, you can serve it as your breakfast as well, because it's a great, nutritionally-balanced and a filling morning delicacy :) Healthy cocoa ice cream will cool and refresh your mind and heart.
Instructions
Before preparing ice cream, cut bananas into pieces and place them into the freezer for 1 day, or for at least 4 hours.
Then, place frozen bananas into a blender and add cocoa and white yogurt (preferably Greek).
Blend until you have thick ice cream with no lumps.
You can serve immediately. I recommend adding fruit, cocoa nibs, or shredded coconut.
The thicker the ice cream you want, the more frozen bananas you should add. If you want sweeter ice cream, I recommend blending it with some dates.
If you haven't eaten it all, you can simply place ice cream into the freezer and take it out a few minutes before eating.
You can also add other fruit, peanut butter, or quark to enjoy new ice cream flavors.
Share this recipe with a friend:
| | | |
| --- | --- | --- |
| | Preparation time | 5 minutes |
| | Yields | 2 servings |
Nutritional information / 1 serving
Calories
148 Kcal
Carbohydrates
27 g
Fiber
7 g
Proteins
6 g
Fat
3 g
I am a fit food wizard nutritionist and I conjure up these healthy and tasty fitness recipes.
My goal is to show you that eating healthy can be easy-breezy.
Lucia Wagner
Comments
✉️ Send me your favorite recipe.
Do you like to cook healthy and want to publish your favorite recipe on Fit Food Wizard?
Email
it to me and I will be happy to try it and publish it.