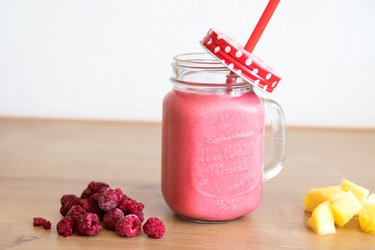 Healthy Creamy Smoothie with Raspberries and Pineapple
Share this recipe with a friend:
There is no doubt that smoothie has become a huge hit among all fans of fruit, refreshing drinks, vitamins and healthy nutrition. There are endless possibilities on combinations of ingredients, that one smoothie can be made of. Enjoying a different taste every morning is possible with this nutritious drink that you prepare in just five minutes. Give this refreshing and healthy creamy smoothie with raspberries and pineapple a try next time.
You only need a blender and a couple of minutes to clean the fruit. Raspberries pleasantly soften the distinct flavor of a pineapple, and yogurt finishes the resulting smoothie with a delicate, creamy flavor. If you have never tried yogurt in a smoothie, then I'm sure you will add it to the most of your fruit smoothies from now on. Of course, you can replace yogurt with any plant-based yogurt or milk (coconut, almond or oat milk). And for the extra protein content, you can also mix a scoop of protein powder into your smoothie (I recommend this one) .
This easy recipe for a healthy creamy smoothie with pineapple and raspberries is especially suitable for hot summer days because it will pleasantly refresh and kickstart your body. The best way to enjoy this smoothie is to pour it into tall cups with a thick paper straw and drink it as soon as possible. Yummy! Indeed, some enzymes will volatilize from the smoothie after few minutes. This refreshing smoothie is rich in vitamins but also fiber, thus you will support your digestion drinking it as well. Please yourself and your loved ones with this pineapple, raspberry and yogurt smoothie. You will definitely love it!
Ingredients
150 g (5.3 oz) pineapple
150 g (5.3 oz) frozen raspberries
100 g (3.5 oz) plain yogurt (or plain Greek yogurt, or plant-based milk)
1/2 cup water
Instructions
Blend everything together until smooth and serve the smoothie as soon as possible.
Share this recipe with a friend:
| | | |
| --- | --- | --- |
| | Preparation time | 5 minutes |
| | Yields | 1 serving |
Nutritional information /
Calories
255 Kcal
Carbohydrates
41 g
Fiber
10 g
Proteins
17 g
Fat
2 g
I am a fit food wizard nutritionist and I conjure up these healthy and tasty fitness recipes.
My goal is to show you that eating healthy can be easy-breezy.
Lucia Wagner
Comments