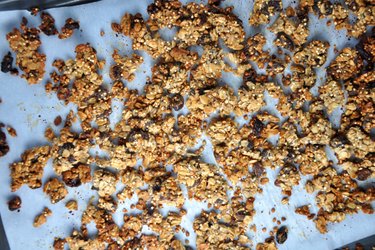 Healthy Homemade Granola (Muesli) from Oats, Buckwheat and Quinoa
Share this recipe with a friend:
If you like crunchy baked granola, you will definitely get to love this easy recipe for healthy homemade granola (muesli). In addition, it is a great and nutritionally valuable meal, where you can also use buckwheat, oats, quinoa and chia seeds. And all of this, without needlessly added high amount of sugar or preservatives. Muesli is crunchy and holds in pieces especially thanks to coconut oil and applesauce, in connection with protein powder or milk powder. This breakfast recipe is totally worth trying out!
I adore granola, but products offered in stores have disappointed me with its sometimes madly high contents of sugar, fat, preservatives and sometimes even various coloring agents. That's why I decided to make baked granola at home, and I can tell you that I have never tried better muesli than this one. In addition to this recipe, I also recommend you to try this homemade granola: Crunchy Baked Granola (Oil-free and Sugar-free) .
Its preparation is quite easy, just watch it in the oven and stir it from time to time, so it does not burn. You can mix in anything to your taste and you also have full control over the amount of added sweetener. Even the use of quality honey itself is a huge improvement. You can also regulate the amount of used ingredients, and I believe that if you start preparing your own homemade healthy fit muesli once, you will do it all the time from now on. Especially, if you have fans of sweet breakfast at home - after all, food should be tasty, but also valuable to our body and health.
Healthy homemade granola tastes perfect just alone, but it also tastes divinely good with milk, especially with plant-based milk, such as coconut or almond milk.
Instructions
Mix all the ingredients together in a bowl.
Then spread them in one thin layer on a sheet lined with parchment paper.
Bake granola for 35-45 minutes at 165 degrees Celsius (330 degrees Fahrenheit), while checking and stirring slightly every 10 minutes.
If you have a powerful oven and your muesli starts to burn, remove it after 30-35 minutes.
Let the baked granola cool down completely while still on the sheet (it will harden), then break it into pieces and store in a sealed container.
Share this recipe with a friend:
| | | |
| --- | --- | --- |
| | Preparation time | 50 minutes |
| | Yields | 5 servings |
Nutritional information / 1 serving
Calories
280 Kcal
Carbohydrates
30 g
Fiber
6 g
Proteins
11 g
Fat
12 g
I am a fit food wizard nutritionist and I conjure up these healthy and tasty fitness recipes.
My goal is to show you that eating healthy can be easy-breezy.
Lucia Wagner
Comments