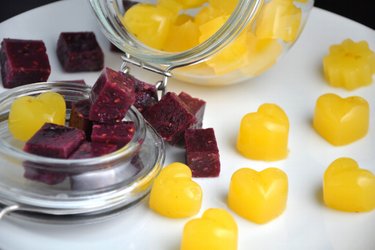 Healthy Homemade Jelly Candies
Share this recipe with a friend:
There are two groups of people - those who prefer chocolate and those who indulge in jelly candies. If you're a fan of jelly candies at least like me, but trying to avoid this delicacy because of sugar and artificial colors, this recipe will surely please you. It's great and especially very easy recipe for healthy homemade jelly candies that you can serve without guilt as a dessert even to your little ones.
These home jelly candies are low calorie, full of vitamins, colors and playful shapes. Thanks to the 100% gelatin used, they are even more rich in protein. Compared to commercial jelly candies, you will not get any empty calories into your body. In stores, you can even find different playful molds for these jelly candies, you can choose from bears, hearts to various worms. I personally don't add any sweetener into the recipe, because thanks to used fruit, these candies are sweet enough for me, but if you want to sweeten the gummy candies, feel free to use honey or stevia.
The recipe contains 100% pure gelatin, which is rich in collagen and is thus great for bones, skin and nails. Do not use confectioner's gelatin for sure, it contains sugar as the main ingredient.
Try this recipe for delicious homemade jelly candies, I believe they will be loved by both children and adults. I prefer them in a cherry, orange and strawberry version.
Ingredients
4 cups fruit (cherries, strawberries, blueberries, orange...)
6 Tbsp powdered gelatin (100%)
½ cup lemon juice
sweetener (optional) (I recommend this one)
Instructions
In a blender, blend chosen fruit.
Strain blended fruit, using a strainer.
You should have approximately 2 cups of juice.
Pour half of the juice into a pot.
Leave the second half in a bowl, sprinkle gelatin over the juice, and let sit for a few minutes.
Warm the pot of juice over medium heat and fold in the juice mixed with gelatin.
Mix thoroughly so that the mixture is smooth.
Add lemon juice and stir again.
Taste the juice, if it's too sour, add sweetener.
Stir again and remove from heat. While cooking, pay attention so that the juice doesn't boil.
Pour the juice into little molds or a big baking pan and let set in the refrigerator for at least 8 hours.
In a pan, cut jelly into small pieces and unmold candies.
If you have trouble with unmolding, place for 30 minutes to 1 hour into the freezer and then try.
Attention! Some of the fruit types contain enzymes that won't allow the juice to set. That's why I don't recommend using pineapple, kiwi, mango, or papaya.
Share this recipe with a friend:
| | | |
| --- | --- | --- |
| | Preparation time | 15 minutes |
| | Yields | 40 servings |
Nutritional information / 1 serving
Calories
10 Kcal
Carbohydrates
1 g
Fiber
1 g
Proteins
1 g
Fat
0 g
I am a fit food wizard nutritionist and I conjure up these healthy and tasty fitness recipes.
My goal is to show you that eating healthy can be easy-breezy.
Lucia Wagner
Comments