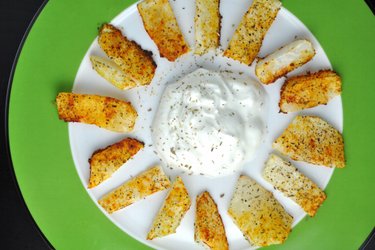 Healthy Kohlrabi Fries
Share this recipe with a friend:
After you try these healthy kohlrabi fries, I am sure you will never get back to the original fries again. Try them out as a romantic, healthy and quick dinner. Sure enough you will charm your beloved one with the kohlrabi fries recipe more than with a collection of butterflies.
Fries have long been not just about potatoes. Healthy vegetable fries are simple and easy to prepare, for example, from kohlrabi. Kohlrabi is an excellent source of nutrients, as it contains magnesium that stimulates the body's activity. Active substances contained in the kohlrabi help with inflammation problems, reduce the risk of diabetes, and it is also very beneficial to lose weight and maintain a slim line.
If you season these low-calorie kohlrabi fries correctly, they will become a natural part of your healthy menu and you will always add them as an garnish to fish, meat, or just like a snack with favorite dip for friends. You will see that you won't miss those classic potato fries anymore.
**Tip for a great low calorie snack or light dinner: ** Hot fries served with plain yogurt or homemade garlic or any other dip.
Instructions
Peel kohlrabi and cut into fries.
Put cut kohlrabi into a bowl, season with salt, (to extract any water inside), and let sit approximately 20 minutes.
This step may be omitted, but fries will be less crunchy.
After 20 minutes, pour out water, toss kohlrabi fries with olive oil, season to taste, and spread onto a baking sheet lined with parchment paper.
Bake kohlrabi fries at 200 degrees Celsius (390 °F) for 25 minutes until they turn brown.
Serve warm fries alone, with white yogurt, or other dips.
Share this recipe with a friend:
| | | |
| --- | --- | --- |
| | Preparation time | 45 minutes |
| | Yields | 2 servings |
Nutritional information / 1 serving
Calories
20 Kcal
Carbohydrates
5 g
Fiber
6 g
Proteins
3 g
Fat
3 g
I am a fit food wizard nutritionist and I conjure up these healthy and tasty fitness recipes.
My goal is to show you that eating healthy can be easy-breezy.
Lucia Wagner
Comments