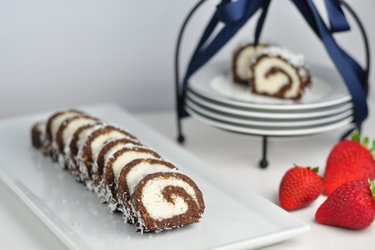 Healthy no-bake coconut roll
Share this recipe with a friend:
I finally managed to create it! **Healthy no-bake coconut roll ** with a minimal amount of added sweetener (honey), without butter and unnecessary fat. Suitable for both an ordinary day or a holiday table. This healthy no-bake coconut roll tastes even better than its traditional unhealthy version. Just see for yourself.
The following amount of ingredients makes for a smaller roulade, which can be cut into 15 pieces. We will use homemade coconut butter as a filling for the dessert. When preparing the coconut butter, do not get scared if it takes longer, it is necessary to mix coconut with honey long enough to form a creamy mixture. I recommend using an electric food chopper, not a large blender, and also I recommend using coarsely grated coconut (or coconut slices), not finely grated coconut. At the end, you can also add protein powder to the filling, preferably coconut or vanilla flavor. If you prepare homemade buckwheat biscuits, for which you can find a simple recipe here: , you will make this coconut dessert gluten-free and even healthier.
If you love the combination of cocoa dough and coconut filling, be sure to try this healthy coconut roulade. It is also perfect as a Christmas dessert.
Instructions
Mix the biscuits into flour in a blender.
In a bowl, mix ground biscuits with honey, cocoa, ground coffee, and two tablespoons of water.
Knead the dough by hand. If it is too stiff, add another tablespoon of water.
Prepare the coconut filling in a chopper (small food processor) (I recommend this one) .
Mix coconut and honey together at high speed for 10-15 minutes with breaks until you have a buttery mixture (coconut butter). The longer you mix, the more buttery the mixture will be. (I recommend using a food chopper and adding a little water if the filling doesn't thicken over time).
Between two sheets of baking paper, roll out the dough into an approximately 3 mm rectangular shape and spread the coconut filling evenly on it.
Carefully roll the dough (the baking paper will help) and let it set in the refrigerator for at least 8 hours.
Cut the roulade and sprinkle with grated coconut.
Share this recipe with a friend:
| | | |
| --- | --- | --- |
| | Preparation time | 25 minutes |
| | Yields | 15 slices |
Nutritional information / 1 slice
Calories
95 Kcal
Carbohydrates
13 g
Fiber
1 g
Proteins
2 g
Fat
4 g
I am a fit food wizard nutritionist and I conjure up these healthy and tasty fitness recipes.
My goal is to show you that eating healthy can be easy-breezy.
Lucia Wagner
Comments