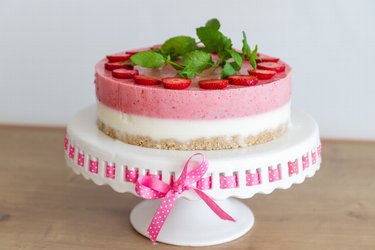 Healthy No-Bake Yogurt Strawberry Cake "Perfection"
Share this recipe with a friend:
Two people, 5 hours and this healthy, refreshing, summer no-bake yogurt strawberry cake no longer exists. Perfection - this name probably describes all of its features. The cake is tender, fluffy, sweet and sour and as added bonus, it is healthy, light and high in protein. Hands down, to me, this is the best healthy no-bake cake ever.
In this recipe, you can easily replace coconut sugar with cane sugar, or xylitol, stevia, or stevia drops, to reduce the carbohydrate and overall caloric content of the cake.
If you happen to be allergic to strawberries, don't despair, you can prepare it with another favorite fruit of yours, preferably with blueberries, raspberries, cherries, apricots or peaches. Additionally, this healthy no-bake fit cake is low fat and flourless, the cake base is made of oats. You'll have it ready in just a few minutes, and you don't even need to bake anything, just let it set in the refrigerator - however, in case of this cake, you will certainly be eager to often check the refrigerator impatiently.
This healthy and fit no-bake yogurt strawberry cake "Perfection" also looks irresistibly and is therefore ideal for any family celebrations, birthdays or Holidays. I can't wait to make it again! Yummy.
Instructions
Grind or blend oats into fine consistency.
In a bowl, mix the oat flour with honey, melted coconut oil and cinnamon. The dough should be very thick and a little sticky.
Prepare a springform cake pan (about 20 cm (7.9 in) in diameter). Use your hand or spatula to press the oat dough on the bottom of the pan and level it.
In a smaller pot, mix 6 tablespoons of pure gelatin with 6 tablespoons of lukewarm water.
Heat up the mixture over low heat, and remove it from the heat as soon as all gelatin dissolves in the water.
In a bowl, combine Greek yogurt, coconut sugar (or another sweetener) and half of the dissolved gelatin.
Whisk the yogurt filling thoroughly and when there are no more lumps, pour it on the prepared cake base.
Put the cake pan into the refrigerator for a few minutes.
Meanwhile, wash and clean strawberries and using a blender, blend them together with 200 g (7.1 oz) of Greek yogurt, coconut sugar (or another sweetener), lemon juice and the rest of dissolved gelatin until smooth.
When the yogurt layer is already solid on the top, pour the strawberry cream gently over it.
Let the cake set in the refrigerator for at least 4 hours.
Finally, we can decorate the cake with fruit, mint leaves and cut it.
Share this recipe with a friend:
| | | |
| --- | --- | --- |
| | Preparation time | 20 minutes |
| | Yields | 10 slices |
Nutritional information / 1 slice
Calories
205 Kcal
Carbohydrates
36 g
Fiber
4 g
Proteins
13 g
Fat
2 g
I am a fit food wizard nutritionist and I conjure up these healthy and tasty fitness recipes.
My goal is to show you that eating healthy can be easy-breezy.
Lucia Wagner
Comments