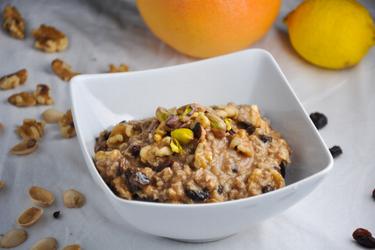 Healthy Oatmeal "Baklava"
Share this recipe with a friend:
Oatmeal in a way of dessert? You have to try it. I like to prepare a variety of oatmeals for breakfast, but this one is a special one for me. I love the Baklava and this porridge reminds me of it - it is a wonderful combination of walnuts, pistachios, honey, lemon peel and spices. And I will tell you this: I just adore desserts in their healthy versions for breakfast :)
And if classic baklava is too sweet for you, you don't have to worry - this oatmeal has a pleasant sweet taste, so you can enjoy baklava flavor without unnecessarily huge amounts of honey and sugar. In addition, this healthy oatmeal is milk-free and gluten-free.
If you desire to prepare the vegan version, just replace honey with maple syrup, for example.
One serving of this creamy porridge is really big, nutritionally valuable, and I'm sure it will fill you up until the midday. Its creaminess lies in the slower cooking of oats on mild to weak heat.
If you are baklava fan like me, you'll definitely enjoy this lighter version in form of oatmeal. There is never enough of inspirations for healthy breakfast porridges, so don't forget to save this recipe and after trying it, definitely leave me a comment about how you liked this version.
Instructions
Place oats into a pot of boiling water.
Let them cook over medium heat, stirring occasionally.
When almost all the water is absorbed, lower the heat and cook the oats until all the water is absorbed (10 more minutes). If you like the oatmeal mushier, you can remove the pot from the heat earlier.
After the oatmeal is cooked, fold in other ingredients and sweeten with honey.
You can serve the oatmeal while still warm, but it's also delicious when cold.
Share this recipe with a friend:
| | | |
| --- | --- | --- |
| | Preparation time | 25 minutes |
| | Yields | 2 servings |
Nutritional information / 1 serving
Calories
465 Kcal
Carbohydrates
64 g
Fiber
6 g
Proteins
8 g
Fat
20 g
I am a fit food wizard nutritionist and I conjure up these healthy and tasty fitness recipes.
My goal is to show you that eating healthy can be easy-breezy.
Lucia Wagner
Comments
✉️ Send me your favorite recipe.
Do you like to cook healthy and want to publish your favorite recipe on Fit Food Wizard?
Email
it to me and I will be happy to try it and publish it.