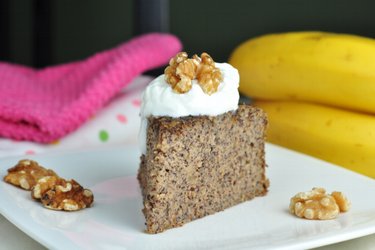 Healthy Poppy Seed Cake (without Flour and Sugar)
Share this recipe with a friend:
Juicy, healthy poppy seed cake without flour and sugar, that is only sweetened with fruit. It contains healthy fats, a lot of nutrients and is really tasty and pleasantly tender. You can serve this poppy seed cake topped with some Greek yogurt and sprinkled with nuts or warm fruit sauce. Yummy!
This healthy poppy seed cake is juicy and fluffy, but don't let these qualities deceive you, it's also filling, rich in healthy fats and complex carbohydrates, making it a great choice for the beginning of the day. If you like poppy, then I believe that this recipe for an easy poppy seed flourless and sugar-free cake will become a staple in your dessert menu. Its foundation is formed by ground poppy seeds with oats and nuts. To sweeten the cake, use ripe bananas and dates. In addition to being really delicious, this dessert is also nutritionally valuable and rich in fiber. As little as 1 slice contains up to 45% RDA of manganese, 12% RDA of vitamin B6, 15% RDA of copper, 13% RDA of calcium and 10% RDA of iron. That's some titbit, isn't it? ;)
I recommend to let dates soak in warm water for at least 30 minutes before blending, making them easier to work with. I recommend to grind the poppy seed at home, thus not to buy ground poppy from the store, as it often has an unpleasantly bitter taste and doesn't preserve all the nutrients.
If you are looking for a quick recipe for a healthy and juicy poppy seed cake, there is no need to look further, you simply have to try this one out.
Instructions
In a food processor, blend nuts with oats together into a fine flour.
Sift the resulting flour into a big bowl, and mix in remaining loose ingredients.
In a food processor, blend together bananas, applesauce, dates, eggs and coconut oil, until a smooth mash is formed.
Stir the wet mixture thoroughly into loose ingredients.
Pour the dough into a silicone (or greased) cake pan (about 20 cm (8 in) in diameter) and bake for 30-35 minutes at 180 degrees Celsius (355 degrees Fahrenheit) until the cake comes out firm.
Let it cool before cutting.
Share this recipe with a friend:
| | | |
| --- | --- | --- |
| | Preparation time | 45 minutes |
| | Yields | 10 slices |
Nutritional information / 1 slice
Calories
218 Kcal
Carbohydrates
19 g
Fiber
4 g
Proteins
6 g
Fat
13 g
I am a fit food wizard nutritionist and I conjure up these healthy and tasty fitness recipes.
My goal is to show you that eating healthy can be easy-breezy.
Lucia Wagner
Comments
✉️ Send me your favorite recipe.
Do you like to cook healthy and want to publish your favorite recipe on Fit Food Wizard?
Email
it to me and I will be happy to try it and publish it.