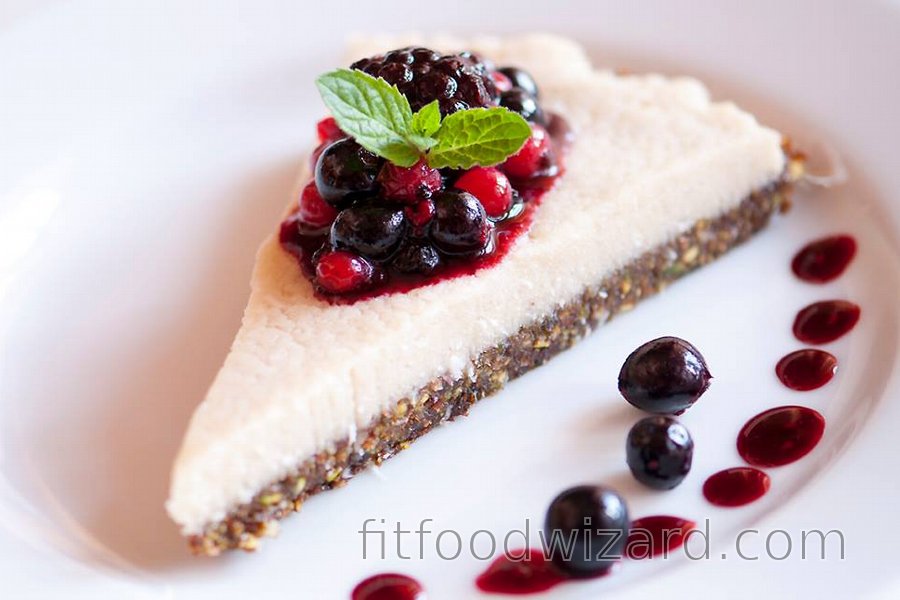 Healthy Raw Vegan Cheesecake (Gluten-Free)
This excellent healthy raw vegan cheesecake without baking, sugar, flour, milk, or any dairy products is so delicious that you will want to eat it all at once. Cheesecake consists only of nutritious and healthy ingredients so you can enjoy it as a dessert or even better - as breakfast.
Although raw cakes are usually more caloric and fat, because of high content of nuts and coconut oil, they are worth indulging in once in a while. Because the cheesecake is not heat-treated, all of its ingredients will retain their nutritional values. Thus they will supply a valuable dose of vitamins, minerals, but also proteins, healthy fats and fiber to your body. In addition, it is very filling, so it can also replace full-fledged meals, such as breakfast.
Cashews contain lots of magnesium, beta-carotene, zinc, and other trace elements that positively affect eyes, skin, and mucous membranes. After soaking in water, they increase their volume and afterwards, a delicious cream that is used in such raw desserts can be prepared from them.
Moreover, raw cheesecake is very easy to prepare and is also suitable for vegans (just replace honey with maple syrup or agave). Check out its exceptional taste. The following ingredients should be enough for 4 servings.
Instructions
Soak cashews in water overnight.
The next day, strain, rinse and dry cashews.
In a blender, blend all cheesecake ingredients together until completely smooth.
Set cheesecake mixture aside and prepare the dough.
In a blender, blend all the dough ingredients (not in a big heavy-duty blender but use a small chopping bowl that should be a part of your hand blender set.
If you don't have one, try to blend it with a hand blender).
If the dough is dry, add some water as necessary.
The mixture shouldn't be too blended, and sticky.
Next, press this dough in the bottom of a cake pan or other pan.
Spread the filling over the dough.
Place cake into the refrigerator for at least 1 night until it stiffens and doesn't fall apart while cutting.
| | | |
| --- | --- | --- |
| | Preparation time | 20 minutes |
| | Yields | 6 slices |
Nutritional information/ 1 slice
Calories
423 Kcal
Carbohydrates
35 g
Fiber
4 g
Proteins
9 g
Fat
29 g