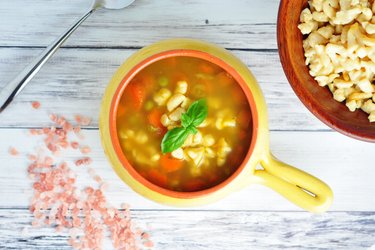 Healthy soup with carrot, peas and chickpea gnocchi
Share this recipe with a friend:
Delicious healthy soup with carrot, peas and chickpea gnocchi, which probably everyone knows. What is better for the stomach than a warm vegetable broth, especially if it is a combination of tasty and healthy carrots and peas. As a child, I loved this soup with gnocchi and I still enjoy it to this day. However, I replaced the gnocchi with a healthier chickpea version so that my body can be even happier after eating it.
Carrot-pea soup is a simple and healthy soup full of vegetables and fiber, with tasty and nutritious chickpea gnocchi. We have prepared these as a main dish in this recipe for chickpea gnocchi: Healthy Chickpea Gnocchi (Gluten-Free) some time ago. They have a mild nutty taste and are full of protein, vitamins, minerals, and fiber. They are also gluten-free and suitable as a replacement for classic gnocchi for celiacs. At home, we love them and I believe that you will love them as well. You can prepare more gnocchi, use some of them in this great soup, and serve the rest with various sauces as the main course.
Every fan of healthy food, but also all children, will enjoy this low-calorie soup. Do you know someone who doesn't like carrots in soup? The amazing sweet taste of carrots and peas will delight the taste buds of every member of the family and will also make your whole apartment smell nice. Bon appetite.
Instructions
Wash the carrots, peel them, and cut them into rounds.
Melt the butter in a deep pot, lightly fry the chopped carrots, and then pour water over them so that all of the carrots are covered by the water.
Salt the soup, season, cover and cook it for about 8 minutes.
Then add the peas to the soup, cook for another 3-5 minutes and remove from the heat. If you want the soup to be thicker, you can use an immersion blender to blend some of the vegetables.
In a bowl, mix chickpea flour with water and salt.
Push the resulting dough through a colander with bigger holes into boiling, salted water, and cook until the gnocchi float on top (approx. 3 minutes).
Strain the finished gnocchi and add them to the soup.
Share this recipe with a friend:
| | | |
| --- | --- | --- |
| | Preparation time | 25 minutes |
| | Yields | 6 servings |
Nutritional information / 1 serving
Calories
195 Kcal
Carbohydrates
24 g
Fiber
9 g
Proteins
9 g
Fat
4 g
I am a fit food wizard nutritionist and I conjure up these healthy and tasty fitness recipes.
My goal is to show you that eating healthy can be easy-breezy.
Lucia Wagner
Comments
✉️ Send me your favorite recipe.
Do you like to cook healthy and want to publish your favorite recipe on Fit Food Wizard?
Email
it to me and I will be happy to try it and publish it.