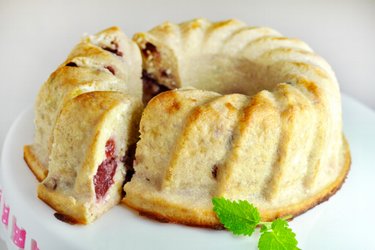 Juicy Banana-Quark Pound Cake
Share this recipe with a friend:
If you like quark, then just two or three pieces of this healthy and juicy banana-quark pound cake will not be enough for you. It is super juicy, tasty, refreshing, rich and also healthy! It is suitable for breakfast or as a healthy dessert.
This fit and healthy banana-quark pound cake is flourless, without added fat or refined sugar. Don't get scared though, the texture will not remind you of the traditional pound cake, but it is super delicious and I think you definitely need to try it. I firmly believe that you and your loved ones will enjoy it, as it belongs to the most popular recipes on my website, among my readers and among my loved ones as well. The healthy fit pound cake is totally easy to prepare, you don't even need to whip the eggs, so you'll have it done in couple of minutes.
In contrast to the classic pound cake, this one is more rich in proteins and at the same time less caloric and low fat. I usually sweeten it with honey, but for the fitness version you can also use xylitol or stevia to reduce the carbohydrate content in this pound cake to a minimum. I love to mix in few pitted sour cherries or cherries to the batter to give it the perfect oomph.
It is very important to cool this gluten-free pound cake down in the baking form after it's baked. The best way to bake this cake is to bake it in a silicone mold, otherwise the cake can very easily stick to that classic mold. If you do not have a pound cake form, you can dose the batter into, for example, muffin silicone forms. And don't forget to watch a short video-recipe for this healthy fit pound cake, that I made for you.
Ingredients
500g (17.6oz) quark
2 ripe bananas
5 eggs
5 Tbsp honey (I recommend this one)
raisins (to taste)
cherries (to taste)
Instructions
Mash bananas and quark with a fork and mix together.
Add eggs, honey, and remaining ingredients and stir thoroughly.
When ingredients are combined, pour batter into a pound cake pan – either silicone or oil-greased pan (I recommend using a silicone pan, otherwise the cake can stick).
Bake for approximately 35 to 40 minutes at 170 degrees Celsius (340 °F) (or adjust baking time to your oven) until the cake turns golden.
It's delicious right after baking, but even juicier the next day after sitting in the refrigerator.
Share this recipe with a friend:
| | | |
| --- | --- | --- |
| | Preparation time | 45 minutes |
| | Yields | 12 slices |
Nutritional information /
Calories
105 Kcal
Carbohydrates
12 g
Fiber
1 g
Proteins
8 g
Fat
3 g
I am a fit food wizard nutritionist and I conjure up these healthy and tasty fitness recipes.
My goal is to show you that eating healthy can be easy-breezy.
Lucia Wagner
Comments
✉️ Send me your favorite recipe.
Do you like to cook healthy and want to publish your favorite recipe on Fit Food Wizard?
Email
it to me and I will be happy to try it and publish it.