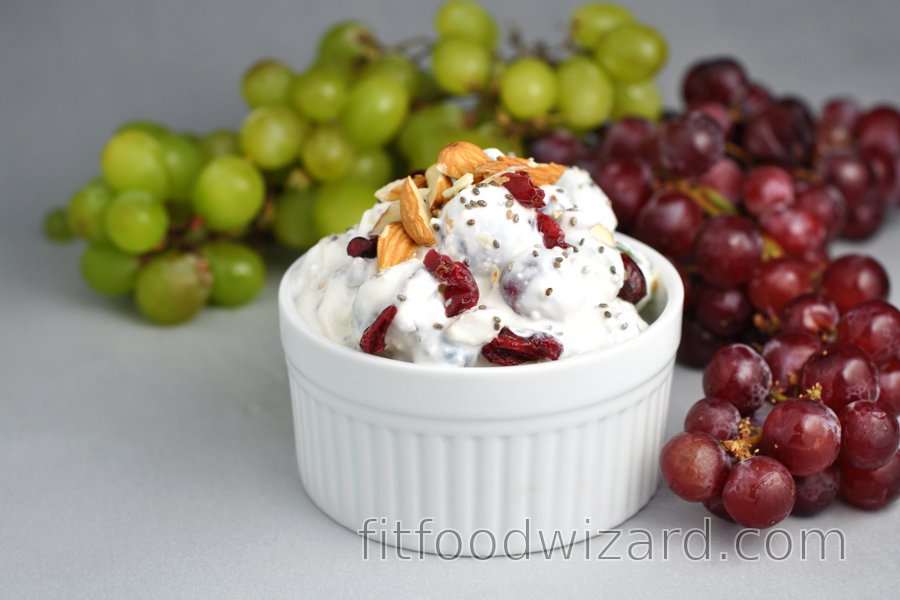 Light Grape Salad with Sour Cream
Fresh and healthy, light grape salad with sour cream and yogurt. Easy and low calorie salad with no added sugar, yet pleasantly sweet and refreshing. This recipe will improve your mood, delight your taste buds and will benefit your health. It also goes well as a garnish to beef meals.
Grapes are a great source of fiber and water, but they also contain a spectrum of vitamins, minerals and antioxidants that help protect your body from various diseases such as cancer, heart or eye illnesses and diabetes. Blueberries are an important source of vitamins and minerals too. One cup of blueberries contains 24% of daily dose of vitamin C and 36% of daily dose of vitamin K. Same as grapes, they help prevent cancer, heart disease and diabetes, but also to maintain healthy bones, skin, digestion, and even mental health.
This recipe is great as a quick morning snack or as a healthy lunch garnish. Of course, you can also enjoy this light grape salad for dinner - after all, it helps digestion and doesn't contain loads of calories. If you cannot make your children eat fruit, try to prepare this light fruit salad and decorate it, for example, with a variety of seeds.
1 serving contains: 20% RDA of manganese 20% RDA of vitamin C 11% RDA of iron and copper 17% RDA of vitamin E
Ingredients
300 g (10.6 oz) mix of white and red grapes
100 g (3.5 oz) fresh blueberries
3 Tbsp plain Greek yogurt
3 Tbsp low fat sour cream
30 g (1.1 oz) dried cranberries / raisins
40 g (1.4 oz) walnuts / pecan nuts / almonds (I recommend these)
1 Tbsp chia seeds (I recommend these)
vanilla pod (or 1/2 tsp of vanilla extract)
Instructions
In a bowl, combine yogurt with sour cream.
Add in seeds from vanilla pod, chia seeds, nuts, dried cranberries and stir.
Finally, add washed grapes and blueberries.
Serve the salad immediately or after refrigerating.
| | | |
| --- | --- | --- |
| | Preparation time | 10 minutes |
| | Yields | 4 servings |
Nutritional information/ 1 serving
Calories
157 Kcal
Carbohydrates
17 g
Fiber
4 g
Proteins
5 g
Fat
7 g