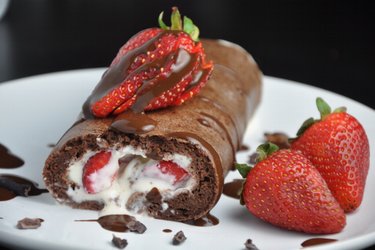 Low Calorie Protein Roll (Gluten-Free, Sugar-Free)
Share this recipe with a friend:
This delicious, soft, low calorie protein roll is healthy and easy to prepare and tastes as a poem. You can even bake it completely flour-free and sugar-free. I like to combine the ease of preparation with a tasty and healthy result. A simple low calorie roll carries the secret of how to pilfer delicacies in a sinless way. Your figure doesn't need to be alerted by this roll.
Low calorie protein roll is full of protein and contains only minimal amounts of carbohydrates and fat. It perfectly replaces sweet desserts or cakes and you can also eat it with an easy conscience during strict diets (assuming you don't add sweetener, or prepare this roll using stevia). It's possible to prepare it with or without protein powder. In this case, replace 1 measuring cup of protein with 30 g of pudding mix.
Flour-less fitness roll will easily feast your visitors and you can fill it according to your own fantasy. I recommend this bulletproof combination - sweet strawberries with quark and greek yogurt. Caress for your body and your appetite. You can serve it as a cold sweet bonus after the candlelight dinner. It can easily replace any sweet dessert or cake.
Instructions
Whisk egg whites into white foam and then, carefully fold in cocoa, protein powder, cinnamon, and baking powder.
If you're not using protein, add chosen sweetener as well.
Pour batter into a rectangular cake pan lined with parchment paper and bake at 150 degrees Celsius (300 °F) for 10 to 15 minutes.
Let dough cool.
In a bowl, mix quark, yogurt, and protein (or sweetener).
Cut chosen fruit into pieces and fold them into the quark filling. If you're using banana, you can put the whole banana into the roll.
Spread filling onto cooled dough and roll up into a log. Let the roll cool in the refrigerator for at least 2 hours.
Share this recipe with a friend:
| | | |
| --- | --- | --- |
| | Preparation time | 25 minutes |
| | Yields | 8 slices |
Nutritional information / 1 slice
Calories
50 Kcal
Carbohydrates
2 g
Fiber
1 g
Proteins
9 g
Fat
1 g
I am a fit food wizard nutritionist and I conjure up these healthy and tasty fitness recipes.
My goal is to show you that eating healthy can be easy-breezy.
Lucia Wagner
Comments