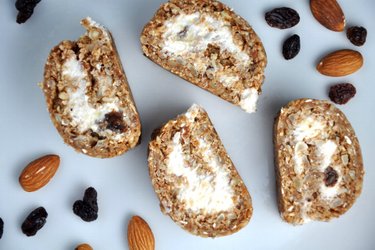 No-Bake Cinnamon Rolls with Banana-Quark Filling
Share this recipe with a friend:
When I hear about cinnamon, the heavenly-smelling cinnamon rolls, made by my grandma, will appear in my imagination. At that time, I didn't even know what positive effects on our body the cinnamon has, and that sometime I will prepare a healthy and very tasty flourless no-bake cinnamon rolls with banana-quark filling.
For a long time, we've known the beneficial effects of cinnamon it has on our bodies. Cinnamon promotes appetite, lowers blood pressure, and improves digestion. It warms and stimulates the digestive tract, calms colic, sickness, and flatulence. In addition to its disinfectant and antibiotic effects, cinnamon is also used as a tool to protect against the common cold, cough, and flu. It has calming effects, helps type 2 diabetes, and lowers cholesterol. It eases menstrual cramps and menopause problems. According to the latest studies, cinnamon lowers the growth of cancer cells related to lymphoma and leukemia. It's also a good calcium and fiber source, which can help lower the risk of colorectal cancer. For people with impaired glucose tolerance and weight issues, it's recommended to eat cinnamon. Ceylon cinnamon is considered to be the highest quality cinnamon on the market. The recommended daily dosage is 1 to 2 teaspoons.
The recipe for healthy no-bake cinnamon dessert is full of vitamins, minerals, fiber and proteins. It contains a minimum of fat and carbohydrates so you can take it to work as a morning or an afternoon snack. The combination of banana and quark creates a delicate and juicy filling, which adds the oomph and delicious flavor to the cinnamon rolls.
No-bake cinnamon rolls with banana-quark filling are exceptional treat for visitors, but they also represent a nutritious everyday dessert.
Instructions
In a blender, blend almonds until you have as fine a flour as possible.
Fold in oats, dates, sweetener, water, and cinnamon and blend until as smooth as possible.
Place dough onto parchment paper and roll out/press into a rectangle, approx. 0.5cm thick.
To prepare the filling, mix quark, yogurt, mashed banana, honey, and raisins/cranberries.
Spread the filling onto the dough (rolled out) and roll into a log.
Place roll in the refrigerator for at least 5 hours, and then cut.
Share this recipe with a friend:
| | | |
| --- | --- | --- |
| | Preparation time | 15 minutes |
| | Yields | 8 slices |
Nutritional information / 1 slice
Calories
227 Kcal
Carbohydrates
27 g
Fiber
4 g
Proteins
9 g
Fat
10 g
I am a fit food wizard nutritionist and I conjure up these healthy and tasty fitness recipes.
My goal is to show you that eating healthy can be easy-breezy.
Lucia Wagner
Comments