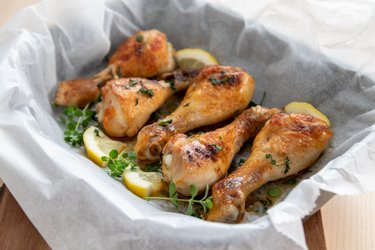 Roasted chicken thighs in lemon marinade
Share this recipe with a friend:
Roasted chicken thighs in lemon marinade - this recipe is a staple at our home. Quick, tasty, healthy and simple. Just marinate the chicken, bake it and you're done! Come and enjoy this simple recipe as well.
I have already tried various marinades for roasted chicken thighs, but this one has become an absolute favorite. It is probably mainly due to its simplicity and availability of the ingredients - I almost always have these at home and I believe that you probably have them as well. If you are a beginner cook, I recommend this recipe especially for you - I really don't think that anything can go wrong with it. An excellent result is guaranteed with this recipe :)
If you are in a hurry, nothing will happen if you do not let the meat marinate for a long time, even 30 minutes is enough. But if you happen to remember, ideally have the meat marinated overnight - this will guarantee an even more bold and vivid taste of the marinade in the meat. I do not cover the chicken thighs with foil during baking, they have never been dry. However, if you know that your oven is too strong, either put it on a lower heat or cover the meat with foil.
I recommend serving roasted chicken thighs in lemon marinade with rice, couscous, quinoa, and preferably with freshly prepared salad. Yummy! Nutritional values ​​are calculated without the side dish. At the same time, I would like to point out that the nutritional values ​​in this recipe are only approximate, as the size of the skin, bone, and proportion of meat can vary considerably in each case.
I believe that you will try this recipe and if so, let me know in the comments below how you liked it :)
Ingredients
1 and 1/2kg of chicken thighs (with skin and bones)
For the marinade:
3 crushed garlic cloves
juice and peel from 1 lemon
2 tbsp of olive oil (I recommend this one)
1 tsp of paprika
1/2 tsp of ground black pepper
1 1/2 tsp of salt
parsley (to taste)
Instructions
In a bowl, mix all the ingredients for the marinade together.
Add the chicken thighs to the bowl and let them soak evenly in the marinade, or brush them with the marinade on every side with a brush.
Then cover the bowl and store in the refrigerator for at least 30 minutes (ideally overnight).
Place the chicken thighs into a baking dish.
Bake them for 30 minutes at 200 degrees. Then turn each piece and bake for another 10 minutes. If you have larger pieces of thighs, you can bake them for a little longer. If you want the top of the thighs to be crispy, pour them over with the gravy a few times during baking.
Serve the roasted chicken thighs together with cooked rice, couscous, quinoa, or with fresh salad.
Share this recipe with a friend:
| | | |
| --- | --- | --- |
| | Preparation time | 80 minutes |
| | Yields | 4 servings |
Nutritional information / 1 serving
Calories
555 Kcal
Carbohydrates
3 g
Fiber
1 g
Proteins
69 g
Fat
30 g
I am a fit food wizard nutritionist and I conjure up these healthy and tasty fitness recipes.
My goal is to show you that eating healthy can be easy-breezy.
Lucia Wagner
Comments