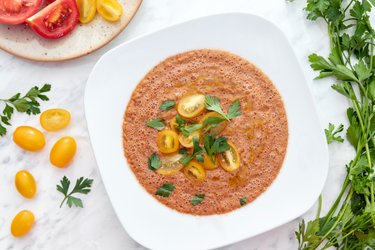 Simple cold gazpacho soup
Share this recipe with a friend:
Gazpacho is a traditional Spanish cold vegetable soup. This simple gazpacho soup is tasty, healthy, and also ready in 10 minutes - what more could you want. Try and prepare it according to this simple recipe.
The basis of gazpacho soup always lies in fresh and ripe tomatoes. You can also experiment with the gazpacho recipe and add other vegetables, according to your taste. Cold gazpacho soup is super rich in vitamins A and C and some minerals are also present. It is low in calories, and therefore diet-friendly, for one serving it contains only 130 kcal. It does not contain any animal ingredients, so it is also suitable for vegans or people suffering from various allergies.
The combination of the words cold and soup may sound weird, even scary, for those who have not tried it yet. Believe me, I also took a long time to try this cold soup. Well, I'm glad I finally prepared it. It was delicious and so simple! It is perfect during hot summer days when it is wonderfully refreshing, but at the same time filling.
When choosing vegetables, make sure that they are very ripe. That is when it has the most intense taste and gazpacho will taste heavenly. If you opt for home-grown vegetables from the garden, nothing can go wrong. Also, if you want this cold soup completely smooth, blend it long enough and in the end, you can strain it through a sieve.
Be sure to try this simple gazpacho soup. It's a great way to enjoy a great dose of vegetables in their tastiest form!
Ingredients
1kg of tomatoes
1 large cucumber
1/2 of smaller red onion
2 cloves of garlic
2 tbsp of olive oil (I recommend this one)
1-2 tbsp of red wine vinegar
100ml of water
salt, ground black pepper (to taste)
2 stalks of parsley
1 tsp of dried basil
Instructions
Wash the vegetables and cut them into small pieces. Clean the onion and garlic.
Put all the ingredients into a large table blender and blend them until smooth. Add vinegar, salt, and ground black pepper to taste.
Place gazpacho soup in the fridge, ideally for at least 2 hours as then it tastes best.
Before serving, you can drizzle the soup with a little extra virgin olive oil and garnish it with cherry tomatoes or other vegetables.
Share this recipe with a friend:
| | | |
| --- | --- | --- |
| | Preparation time | 10 minutes |
| | Yields | 4 servings |
Nutritional information / 1 serving
Calories
130 Kcal
Carbohydrates
11 g
Fiber
4 g
Proteins
3 g
Fat
8 g
I am a fit food wizard nutritionist and I conjure up these healthy and tasty fitness recipes.
My goal is to show you that eating healthy can be easy-breezy.
Lucia Wagner
Comments