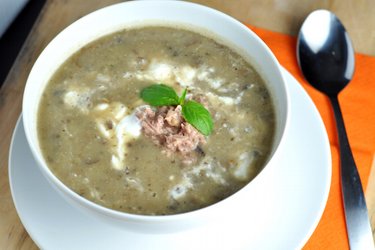 Simple Mushroom Potato Soup with Tuna
Share this recipe with a friend:
An interesting, thick and delicious, simple mushroom potato soup that can even be served with tuna as a main dish. This simple soup from mushrooms and potatoes is low calorie and full of protein, making it also suitable for weight loss and various diets. It's gluten-free and contains no eggs, nuts or milk (when omitting Greek yogurt). The soup smells wonderfully and its creamy potato-mushroom flavor will totally get you!
Mushrooms and potatoes are the main ingredients in this recipe. They perfectly complement each other and the resulting cream is a real delicacy. However, I recommend serving this soup together with tuna and Greek yogurt. Not only will they provide the soup with a further dose of protein and will fill you up well, but yogurt will give it a delicate creamy flavor, and tuna pieces will taste even better in such creamy soup.
And finally, I also have a tip for moms. Creamy soups, like this mushroom potato soup, are also suitable for children, as they can be easily poured into baby food pockets (before adding tuna to the soup). Not only children will eat more, but at the same time, they will not make a lot of mess. But be careful of strong mushroom stock - children are sensitive to mushrooms and very little children up to one year of age shouldn't eat mushrooms at all.
Ingredients
500 g (17.6 oz) champignons
1 onion
2 medium-sized potatoes
2 cloves of garlic
2 L (8 cups) chicken stock (or water)
1 tsp salt (I recommend this one)
1/4 tsp ground black pepper
1 Tbsp butter
150 g (5.3 oz) tuna in its own juice (optional) (I recommend this one)
4 Tbsp Greek yogurt (for thickening after cooking - optional)
Instructions
Chop onion finely.
Wash mushrooms and chop them finely.
In a non-stick pot, heat up a spoonful of butter and lightly sauté chopped onion.
Add mushrooms and sauté until they soften (about 5 minutes), stirring occasionally.
Add chicken stock or water and bring the soup to a boil.
In the meantime, blend finely chopped raw potatoes together with 2 cloves of garlic and a little bit of water in a blender.
Stir the mixture into the soup.
Let the soup boil for about 10-15 minutes and finally blend it with a hand blender, then season with salt and pepper.
If desired, mix in Greek yogurt before serving, and I also recommend adding some tuna (drained of juice). This way the soup will provide you with even more protein and will fill you up really well.
Share this recipe with a friend:
| | | |
| --- | --- | --- |
| | Preparation time | 30 minutes |
| | Yields | 4 servings |
Nutritional information / 1 serving
Calories
135 Kcal
Carbohydrates
18 g
Fiber
5 g
Proteins
7 g
Fat
4 g
I am a fit food wizard nutritionist and I conjure up these healthy and tasty fitness recipes.
My goal is to show you that eating healthy can be easy-breezy.
Lucia Wagner
Comments