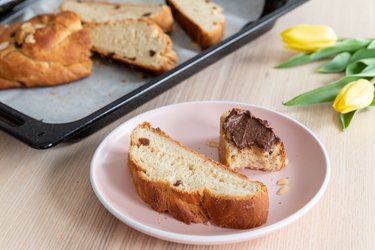 Spelt Braided Bread
Share this recipe with a friend:
Healthy spelt braided bread that is easy to prepare and fits ideally on the Christmas or Easter Holiday table. If you like the smell and taste of homemade pastries too, you definitely have to try out this healthy and sweet braided bread.
No store-bought braided bread can match the taste of a homemade one and as far as nutrition goes, this healthy version is better off as well. It contains healthy and more nutritious spelt flour, coconut oil and cane sugar. If you want to make it completely lactose-free, just use plant-based milk, and you can skip the egg as well and thus serve it also to those allergic to these ingredients.
In addition, you can add in whatever you want - nuts, raisins or other dried fruits. It is amazing for breakfast with butter, honey, homemade jam or any sweet spread, for example this Healthy Chocolate Spread - Fitness Nutella . It is the best at the same day of baking and I must admit, we always manage to eat it all on the first day. On the second day, I recommend to warm it up, it will taste amazingly too though.
If your kids love sweet pastry too, don't hesitate and try out this easy recipe for spelt braided bread. Its preparation is not challenging at all, most of the work will be done by yeast and time. I wish you a lot of patience while waiting for this goody :)
Ingredients
400 g (14.1 oz) fine spelt flour (or whole-wheat) (I recommend this one)
300 ml (10 fl.oz) lukewarm milk (cow's or plant-based)
7 g (0.25 oz) dry yeast
5 Tbsp melted coconut oil (I recommend this one)
80 g (2.8 oz) cane sugar (or glucose) (I recommend this one)
1 Tbsp vanilla extract (or 1 vanilla pod)
1 egg (you can omit)
raisins, nuts (to taste)
pinch of sea salt
Instructions
In a small bowl, prepare leaven by mixing yeast, a teaspoon of sugar or glucose and a little bit of lukewarm milk.
Let the leaven rise for 10-15 minutes.
In a second bowl, mix flour with the remaining brown sugar (or glucose), raisins, or nuts and a pinch of salt.
In a mug, stir lukewarm milk with melted oil and vanilla extract, and add it together with leaven into the flour mixture.
You can also add egg into the dough, the final result will be even smoother and fluffier.
Using your hand, form a non-stick dough, cover it and let it rise for 30 to 60 minutes in a warm place.
Next, split the dough into 6 equal parts.
Take 3 of them and knit the base braid. Place it on a sheet lined with parchment paper.
Take another 2 parts and combine them together. Then split them into 3 smaller parts of which we will make another braid and place it on the first one.
From the rest of the dough, knit the smallest - top braid and place it on top.
Let the prepared bread rise for another 20-30 minutes in a warm place.
You can now spread it with egg, butter, oil or milk for shiny finish and sprinkle it with some almond pieces for decoration.
Bake the braided bread for 8 minutes at 200 degrees Celsius (390 degrees Fahrenheit) first and then lower the temperature to 150 degrees (300 degrees Fahrenheit) and bake it for another 45 minutes until golden.
Share this recipe with a friend:
| | | |
| --- | --- | --- |
| | Preparation time | 100 minutes |
| | Yields | 12 slices |
Nutritional information / 1 slice
Calories
187 Kcal
Carbohydrates
27 g
Fiber
3 g
Proteins
5 g
Fat
7 g
I am a fit food wizard nutritionist and I conjure up these healthy and tasty fitness recipes.
My goal is to show you that eating healthy can be easy-breezy.
Lucia Wagner
Comments