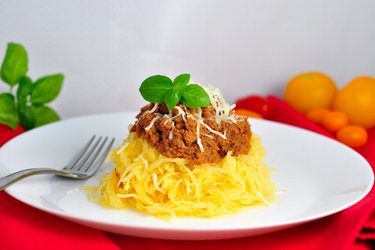 Squash "spaghetti" with minced turkey meat in tomato sauce
Share this recipe with a friend:
This is one of those dishes proving that healthy meals can be really delicious! Exchanging wheat spaghetti with this squash version makes this dish healthier and lighter - but no less tasty main course. This fit squash "spaghetti" with minced turkey meat in tomato sauce is definitely worth a try.
Squash spaghetti contains no flour, gluten, or eggs and, unlike traditional spaghetti, contains more fiber and, on the other hand, fewer carbs and calories, making them more weight-loss friendly. So you can have this vegetable version of "spaghetti" without any remorse. In addition, the food is absolutely easy to prepare and with only a few accessible ingredients. Spaghetti squash is the ideal type of pumpkin for creating the spaghetti, you can find it in almost every supermarket during the pumpkin season.
Pumpkin is also one of the ingredients that will make your entire apartment smell great. The sauce contains turkey meat, which is a more diet version of the classic recipe. So if you are looking after your physique, but at the same time, you do not want to give up your favorite food, try it in this healthy and fit version - squash "spaghetti" with minced turkey meat is excellent.
And what do your children say about them? They will definitely fall in love with this playful version of a pumpkin quickly.
Ingredients
1 spaghetti squash
300g of minced turkey meat
1 onion
1 tbsp of coconut oil (I recommend this one)
200g of tomato puree
4 cloves of garlic
1 tsp of sea salt
1/2 tsp of ground black pepper
basil
150ml of water
Instructions
Cut the squash in half lengthwise and carve the seeds out.
Pour about 2 cm of water into a deeper baking dish, place both halves of the squash (inside down) in the dish and cover it with perforated aluminum foil.
Bake the squash for 45 minutes at 205 °C.
After 45 minutes, take the squash out, turn it and use a fork to scrape the inside into "spaghetti".
In the meantime, melt coconut oil in a pot and lightly sweat finely chopped onion.
Add minced turkey meat, tomato puree, spices, sea salt, and water to the pot and stir the mixture thoroughly.
Stew the meat covered for 30 minutes.
Add pressed garlic cloves to the meat, little more water if necessary, fresh basil, and cook uncovered for another 5 minutes.
Serve the finished meat with squash "spaghetti". You can also sprinkle grated cheese on top.
Share this recipe with a friend:
| | | |
| --- | --- | --- |
| | Preparation time | 60 minutes |
| | Yields | 2 servings |
Nutritional information /
Calories
429 Kcal
Carbohydrates
43 g
Fiber
1 g
Proteins
37 g
Fat
16 g
I am a fit food wizard nutritionist and I conjure up these healthy and tasty fitness recipes.
My goal is to show you that eating healthy can be easy-breezy.
Lucia Wagner
Comments
✉️ Send me your favorite recipe.
Do you like to cook healthy and want to publish your favorite recipe on Fit Food Wizard?
Email
it to me and I will be happy to try it and publish it.