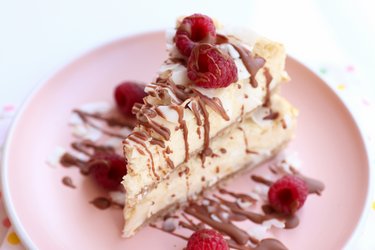 The best fit coconut cheesecake
Share this recipe with a friend:
I enthusiastically declare that this fit coconut cheesecake is one of the best coconut cakes I have ever had. If you too love coconut and cheesecake at the same time, you have to try it out!
Coconut milk we use in this recipe contributes to its delicate coconut taste. However, do not forget to put it in the refrigerator the day before, you will only want to use its upper solidified part, which will form after a few hours in the refrigerator. If you want to increase the protein content of the cheesecake, you can also use coconut protein powder, which will further enhance its irresistible coconut taste. If you don't have coconut protein powder, it doesn't matter at all, you can prepare the cheesecake without it. This healthy cheesecake can be prepared even by a complete beginner because its preparation is so simple and quick.
Compared to regular cheesecakes, this fit coconut cheesecake has fewer calories, less sugar and fat, but, on the other hand, more protein. The crust of the cheesecake is not made of any ground biscuits. You can prepare a healthy version of it with the help of oats, almonds, honey, and coconut oil. Cheesecake can be served sprinkled with pieces of coconut and raspberries (fresh or hot).
If you try this healthy and simple coconut cheesecake, be sure to let me know how you liked it in the comments! :)
Ingredients
For the crust:
180g of oats (I recommend these)
50g of almonds (I recommend these)
2 tbsp of coconut oil (I recommend this one)
1-2 tbsp of water
2 tbsp of honey/xylitol (I recommend this one)
For the cream:
400ml of coconut milk (can must be left in the fridge overnight - you will only need the upper solidified part) (I recommend this one)
500g of soft quark (or low-fat cream cheese)
200g of low-fat cream cheese (e.g. Philadelphia)
5-6 tbsp of honey (or xylitol) (I recommend this one)
50g of shredded coconut
2 eggs (or 2 tbsp of corn starch)
coconut protein powder (optional, you do not have to substitute it, if you want to use it, you can add 30g of protein powder and only use 30g of grated coconut) (I recommend this one)
20g of shredded coconut (to sprinkle)
Instructions
Blend almonds and oats together into a fine flour in a blender (I recommend this one) .
Add melted coconut oil, honey, and, if the dough is too crumbly, also add 1-2 tablespoons of water to the mixture.
Mix the sticky dough by hand and press it to the bottom of a cake tin (with a diameter of approximately 25 cm).
In a larger bowl, mix all the ingredients for the cream together. Only add the upper solidified part of the coconut milk, which was created after chilling in the refrigerator.
Mix the cream thoroughly and if it contains lumps, blend it with an immersion blender.
Pour the cream onto the prepared crust, sprinkle with 20 g of coconut, and bake the cheesecake for about 50 minutes at 150 degrees (bottom and top heating of the oven) until the top starts to catch a golden color.
Let the baked cheesecake cool in a half-open oven (this will prevent the cheesecake from cracking on top) and then move it to the refrigerator for at least 4 hours.
Share this recipe with a friend:
| | | |
| --- | --- | --- |
| | Preparation time | 75 minutes |
| | Yields | 10 slices |
Nutritional information / 1 slice
Calories
280 Kcal
Carbohydrates
25 g
Fiber
2 g
Proteins
12 g
Fat
15 g
I am a fit food wizard nutritionist and I conjure up these healthy and tasty fitness recipes.
My goal is to show you that eating healthy can be easy-breezy.
Lucia Wagner
Comments