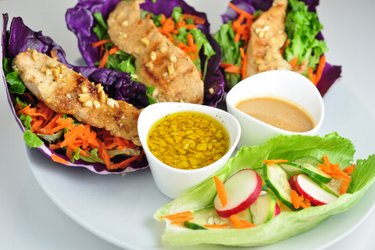 Veggie chicken wraps with two sauces
Share this recipe with a friend:
I got the inspiration for this perfect meal in a restaurant called The Cheesecake Factory. Fit veggie chicken wraps with two sauces are suitable for everyday lunch or dinner, as well as a healthy appetizer or snack for guests. The colorfulness of this fitness meal will get you at first sight, and I promise you that the taste is even better.
Do not be discouraged by the number of ingredients needed for this meal, they are all staples that each of us should have at home regularly. The preparation of this dish is really simple and the resulting taste is amazing. The peanut and cashew sauce taste divine together with the vegetables and the chicken.
In addition, this recipe contains a ton of vegetables, protein, and healthy fats, so every lover of healthy food can easily enjoy it. If you haven't tried the combination of nut butter and chicken yet, you just have to prepare this recipe. I guarantee you that the flavor will pleasantly surprise you. These vegetable and chicken wraps with two sauces serve as a nutritious lunch or dinner full of protein.
Wrap the chicken pieces in crunchy lettuce and cabbage leaves, dip them in the delicious sauce, and enjoy this healthy deliciousness. I believe that in this is a great way to really enjoy the vegetables :)
Instructions
In a large bowl, prepare the marinade for chicken breasts by mixing water, soy sauce, lime juice, ginger, and garlic powder.
Cut the chicken breasts into thicker noodles and soak them in the marinade.
The longer you let them marinate, the more aromas they will absorb and they will be tastier. You can let them marinate overnight.
Then grill the chicken breasts in a pan until golden on both sides (about 7 minutes).
In a small bowl, combine water, vinegar, honey, a pinch of salt and ground black pepper.
Add finely chopped cucumbers and radishes into the small bowl. Place the bowl in the refrigerator while you prepare the sauces.
Prepare the sauces by mixing all the ingredients together.
You can also let them set in the fridge for a while, but it's not necessary.
When serving, put a salad leaf, grated carrots, cucumbers, radishes, and a piece of chicken breast smeared with cashew sauce in each cabbage leaf.
Fold or roll the filled wrap and dip in sauces.
Bon appetite!
Share this recipe with a friend:
| | | |
| --- | --- | --- |
| | Preparation time | 30 minutes |
| | Yields | 2 servings |
Nutritional information / 1 serving
Calories
590 Kcal
Carbohydrates
41 g
Fiber
5 g
Proteins
45 g
Fat
27 g
I am a fit food wizard nutritionist and I conjure up these healthy and tasty fitness recipes.
My goal is to show you that eating healthy can be easy-breezy.
Lucia Wagner
Comments