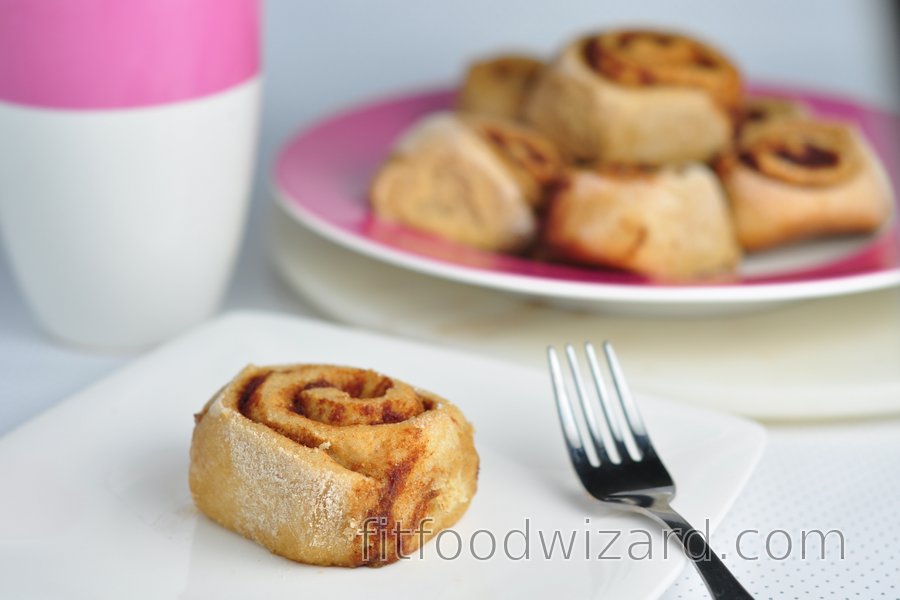 Whole wheat cinnamon rolls
Healthier version of cinnamon rolls or buns with whole wheat flour and lower fat and sugar content. They are soft, slightly sweet, and great for breakfast or a snack, not only for children. If you prefer sweeter foods, I recommend adding a tablespoon of honey to the recipe. However, these whole wheat cinnamon rolls taste fantastic and they are also easier to digest than their store-bought version.
I have a big sweet-tooth and cinnamon rolls are one of the classic recipes that remind me of childhood. The smell of cinnamon floating through the apartment and impatient waiting over the hot rolls. If you've ever experienced for yourself why you should not eat warm pastries, it was definitely with such a sweet creation. Cinnamon rolls or buns are very popular basically everywhere, so I came up with a lighter and healthier version.
I chose fine whole wheat flour for the dough and the only sweetener used in this recipe is honey. You also don't need anything else for the cinnamon filling other than cinnamon, apple puree and honey. One healthy cinnamon roll contains only 3g of fat and 120 calories, which makes it a low-fat and low-calorie cinnamon pastry. Yummy! Try these healthy cinnamon rolls, they are amazing, light, and everyone will surely love them.
1 cup = 250 ml
Instructions
In a large bowl, mix warm water with yeast, a tablespoon of honey, and a little flour. Let the mixture leaven for 15 minutes in a warm place.
Mix other ingredients into the yeast mixture and work out a smooth dough.
Cover the bowl and leave the dough to rise in a warm place for 1.5 to 2 hours.
When the dough has risen, roll it out on a floured board into a rectangle.
In a small bowl, mix apple puree with honey and cinnamon and spread this filling on the entire surface of the dough.
Roll the dough up and cut it into pieces. Choose the thickness and size of the rolls according to your own preferences.
Place the sliced rolls on a sheet lined with baking paper and bake them for 25-30 minutes at 180 °C until golden.
| | | |
| --- | --- | --- |
| | Preparation time | 150 minutes |
| | Yields | 12 pieces |
Nutritional information/ 1 piece
Calories
120 Kcal
Carbohydrates
19 g
Fiber
3 g
Proteins
4 g
Fat
3 g