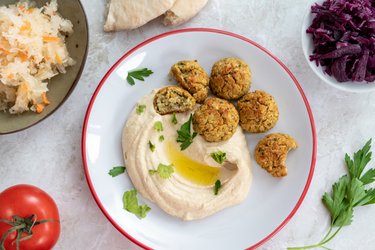 Baked falafel with hummus
Share this recipe with a friend:
Baked falafel with hummus is an excellent vegan dish that everyone can enjoy, regardless of whether you are vegan or not. It's a healthy recipe that is worth a try. And that creamy homemade hummus, so yummy!
Falafel is traditionally prepared by frying in a fryer. However, since we want to prepare a fit and healthier version, I had to bet on baking. Falafel without frying is also very tasty, although I must warn you that it is a bit drier than the fried version. Nevertheless, I recommend to try it. It is delicious and tastes best when freshly baked.
I prefer to serve this baked falafel with hummus as a healthy dinner or lunch. It is a nutritious food full of a wide range of vitamins and minerals. In addition to the fantastic flavor, my favorite thing about this dish is that for both components of the recipe - falafel and hummus, you need almost the same ingredients that are easily available. The only ingredient that might be a bit harder to find is tahini paste, however, it can usually be found in any large supermarket or organic food store.
And who wouldn't love a good hummus? Perhaps only the ones who resisted this food for its unattractive name until now. If you are one of those who have not tried hummus yet, be sure to prepare it. I'm sure you'll fall in love with this recipe. You can customize homemade hummus according to your taste. So try to follow this recipe in detail first, and if you want, next time you make it, you can experiment and adjust the ratio of individual ingredients according to yourself, or even add something new.
And let me not forget, heated whole wheat pita bread and fermented vegetables or sauerkraut go extremely well with this fragrant roasted falafel and hummus. Bon appetit!
Ingredients
For the falafel:
500g of cooked chickpeas
1 onion
3-4 cloves of garlic
3 tbsp of flour (spelled, wheat, or buckwheat)
1 tsp of crushed cumin
1 tsp of salt
a handful of fresh coriander
a handful of fresh parsley
1/4 tsp of ground black pepper
2 tbsp of olive oil (I recommend this one)
water (as needed)
For the hummus:
400g of cooked chickpeas
juice from 1 lemon
100g of tahini paste
2 tbsp of olive oil
1/2 tsp of salt
1/2 tsp of ground cumin
1-2 cloves of garlic
2-4 tbsp of water
Instructions
First, prepare the falafel. Put all the ingredients for the falafel (except water) in a food processor and mix them as smoothly as possible. Add water as needed if the dough is too stiff.
From the finished dough, create small balls by hand and place them on a baking sheet lined with baking paper.
Bake the falafel for 25-30 minutes at 190 degrees until golden.
In the meantime, prepare the hummus.
Put all the ingredients for hummus in a food processor or another powerful blender and blend them together until smooth. Add water as needed to achieve the required consistency.
Serve the finished falafel together with the hummus. It tastes best freshly baked.
You can also add sauerkraut, fermented vegetables, and whole wheat pita bread.
Share this recipe with a friend:
| | | |
| --- | --- | --- |
| | Preparation time | 50 minutes |
| | Yields | 4 servings |
Nutritional information /
Calories
579 Kcal
Carbohydrates
52 g
Fiber
15 g
Proteins
17 g
Fat
30 g
I am a fit food wizard nutritionist and I conjure up these healthy and tasty fitness recipes.
My goal is to show you that eating healthy can be easy-breezy.
Lucia Wagner
Comments