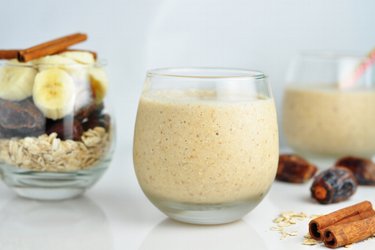 Banana Oat Breakfast Smoothie
Share this recipe with a friend:
This excellent banana oat breakfast smoothie with dates and cinnamon is the perfect choice for a healthy and nutritious breakfast. Smoothie is only sweetened with fruit and has a perfect consistency and taste. It's nutritionally valuable, quick and easy to prepare, and just ideal for breakfast. Although the recipe is somewhat unusual and you probably haven't heard of this combination yet, I truly recommend trying it out, you won't regret it.
This healthy banana oat smoothie contains up to 40% RDA of vitamin B-6, 30% RDA vitamin E, 25% RDA calcium and also about 10% RDA of iron, copper, vitamin D, A, manganese and magnesium. It's also rich in fiber and low in fat.
Smoothie is a great choice for busy mornings - just blend the ingredients together in a blender and take them with you to work or school. If you want to enjoy this oat smoothie with banana in even more thick and refreshing consistency, I recommend to cut the banana and freeze it the day before. Overall, I like it when there is something frozen in a smoothie, it has more creamy and tasty consistency. I usually use frozen fruit or ice in my smoothies.
If desired, you can also add some protein powder into your breakfast smoothie (I recommend this one) to increase its protein content. In that case, I recommend decreasing the amount of dates by half. This healthy banana smoothie with oats is really filling and can easily represent a proper breakfast.
Instructions
Blend all ingredients together in a blender into smooth consistency.
I recommended to drink the smoothie immediately, or transfer it in a thermo mug.
Share this recipe with a friend:
| | | |
| --- | --- | --- |
| | Preparation time | 5 minutes |
| | Yields | 1 serving |
Nutritional information / 1 serving
Calories
290 Kcal
Carbohydrates
58 g
Fiber
8 g
Proteins
5 g
Fat
3 g
I am a fit food wizard **nutritionist** and I conjure up these healthy and tasty fitness recipes. My goal is to show you that eating healthy can be easy-breezy.
Lucia Wagner
Comments
Please log in to FaceBook to display comments.
✉️ Send me your favorite recipe.
Do you like to cook healthy and want to publish your favorite recipe on Fit Food Wizard?
Email
it to me and I will be happy to try it and publish it.