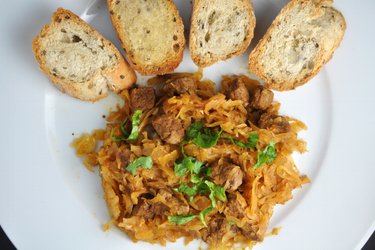 Beef Stew with Sauerkraut
Share this recipe with a friend:
The beef together with sauerkraut is the perfect combination for me. And pieces of dried plums with it, that's the heaven in mouth. Prepare this delicious beef stew with sauerkraut for lunch and enjoy it as well.
Beef is a great source of protein, iron and zinc and contains a low amount of fat compared to pork. Healthy diet menu should not lack it, from time to time. In my fit recipes I use lean beef, such as fillet, sirloin or a rump. In this particular recipe I used the rump.
Perhaps we don't need to talk about health benefits of sauerkraut. Cooked sauerkraut is better digestible and retains enough of fiber, vitamins and minerals, despite the heat treatment, and helps to create the right microflora in the bowels. However, be careful if you have histamine intolerance, in this case it will not be the best choice for you.
The recipe also offers proper nutritional values, it contains only 290 kcal and 31g of protein per serving. Meal can be served alone, with whole-wheat pastry, homemade whole-wheat dumpling or other favorite side dish.
Great tip for healthy weekend lunch, don't you say?
Ingredients
500g (17oz) beef
1 onion
4 cloves garlic
800-900g (28 to 32oz) sauerkraut
2 Tbsp avocado/coconut oil (I recommend this one)
50g (1.7oz) dried plums
250g (8.8oz) mushrooms (optional)
2 Tbsp sweet paprika
1 tsp. ground black pepper
1 tsp. cumin
1 to 2 tsp. sea salt
water (as needed)
Instructions
In a big pot, sauté finely chopped onion and garlic in 2 tablespoons of heated oil.
When onion is turning brown, add diced beef and stir.
Season with spices and salt, and brown for approximately 5 minutes.
Next, add 300ml water, chopped plums, rinsed sauerkraut, and if desired, chopped mushrooms.
Mix everything together, cover the pot, and let cook for 30 to 40 minutes.
Check and stir occasionally, and if necessary, add more water so that the meat with sauerkraut doesn't char.
Serve meat with sauerkraut alone, with baked whole-wheat bread spread with garlic, or other garnish.
Share this recipe with a friend:
| | | |
| --- | --- | --- |
| | Preparation time | 50 minutes |
| | Yields | 4 servings |
Nutritional information / 1 serving
Calories
290 Kcal
Carbohydrates
10 g
Fiber
6 g
Proteins
31 g
Fat
12 g
I am a fit food wizard nutritionist and I conjure up these healthy and tasty fitness recipes.
My goal is to show you that eating healthy can be easy-breezy.
Lucia Wagner
Comments
✉️ Send me your favorite recipe.
Do you like to cook healthy and want to publish your favorite recipe on Fit Food Wizard?
Email
it to me and I will be happy to try it and publish it.