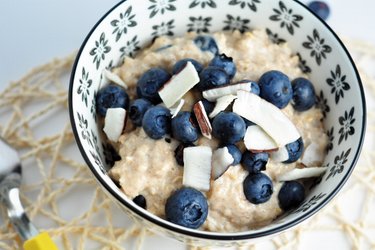 "Blueberry cheesecake" oatmeal
Share this recipe with a friend:
If you are always looking for new inspirations for oatmeal or other breakfast porridge, you are on the right spot. This time I have prepared delicious oatmeal called "blueberry cheesecake" for you. This oatmeal will persuade you that even such a small change as the addition of Greek yogurt in combination with blueberries will create completely different flavors. Oatmeal is rich in fiber and complex carbs - so it is perfect in the morning. Don't hesitate and try it right away!
The preparation of an oatmeal takes only a few minutes, but the energy you get from such healthy breakfast will last for several hours. If you have never tried oatmeal before, I definitely recommend trying this version with a blueberry cheesecake flavor. Blueberries are one of the richest sources of vitamin C and antioxidants. Adding them to your diet right with the first meal of the day is definitely a good idea.
If you have problems with cow's milk, you can replace Greek yogurt with soy yogurt. This way, you can easily whip up a vegan version of this oatmeal. This simple "blueberry cheesecake" oatmeal is low-calorie, but full of flavor.
Oatmeal is also suitable for little ones. After all, a sweet breakfast is a tempting attraction for children. You can decorate this healthy porridge with fruit or sprinkle with chocolate chips. Don't forget to also check out the other oatmeal recipes I have here for you.
Instructions
Bring water to a boil in a pot.
Add oats to the water and cook the oatmeal until soft.
Once the oats are soft and creamy and have absorbed all the water, remove the porridge from the heat and mix in the sweetener, cinnamon, Greek yogurt, and blueberries.
The oatmeal can be served hot or cold.
Share this recipe with a friend:
| | | |
| --- | --- | --- |
| | Preparation time | 8 minutes |
| | Yields | 1 serving |
Nutritional information / 1 serving
Calories
282 Kcal
Carbohydrates
47 g
Fiber
10 g
Proteins
10 g
Fat
3 g
I am a fit food wizard nutritionist and I conjure up these healthy and tasty fitness recipes.
My goal is to show you that eating healthy can be easy-breezy.
Lucia Wagner
Comments
✉️ Send me your favorite recipe.
Do you like to cook healthy and want to publish your favorite recipe on Fit Food Wizard?
Email
it to me and I will be happy to try it and publish it.