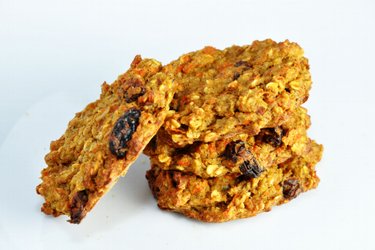 Carrot and Apple Fit Cookies or Bread without Flour, Sugar and Fat
Share this recipe with a friend:
This delicacy's dough was once again just an experiment, but it really did go out well. I desired something healthier and more diet, and that's the way how this very tasty and soft dough with cinnamon touch was created. From the dough you can prepare either healthy cookies or for example healthy carrot bread, and all of it without adding flour, sugar and fat.
Cookies or bread made with this recipe can be served, for example, as a healthy breakfast or as a light snack in between meals. These cookies are low calorie, they contain complex carbohydrates from oats, but also quick fruit sugars. Of course, these cookies will be more soft than crunchy, as we don't add any oil or flour into the dough. They are just a little sweet, because they don't contain any sweetener, they are naturally sweetened with the fruit they contain.
I tried to prepare three variants from this carrot and apple dough - cookies, bread and small candies in the moulds. The cookies were the most delicate and I would place bread on the second place. So decide what do you desire right now and cook this dough in the chosen form. From the following amount of ingredients I made 1 bread and about 10 cookies and if I only prepared cookies, I made 25 pieces. You can also add dried fruit, coconut, seeds or nuts to enrich structure of the dough.
Try out these diet carrot and apple fit cookies, you will certainly enjoy them.
Instructions
Blend all ingredients, except dried fruit, thoroughly in a blender.
Then fold in dried fruit.
Pour dough into a bread mold/half-round loaf pan, or scoop onto parchment paper into cookies.
If you're not using a silicone bread mold, line the mold with parchment paper.
Bake at 190 degrees Celsius (375 °F) for 25 minutes.
After 25 minutes, bake for another 7 minutes at 200 degrees Celsius (390 °F) until cookies are brown and the bread is firm.
Share this recipe with a friend:
| | | |
| --- | --- | --- |
| | Preparation time | 40 minutes |
| | Yields | 25 servings |
Nutritional information / 1 serving
Calories
38 Kcal
Carbohydrates
6 g
Fiber
1 g
Proteins
2 g
Fat
1 g
I am a fit food wizard nutritionist and I conjure up these healthy and tasty fitness recipes.
My goal is to show you that eating healthy can be easy-breezy.
Lucia Wagner
Comments
✉️ Send me your favorite recipe.
Do you like to cook healthy and want to publish your favorite recipe on Fit Food Wizard?
Email
it to me and I will be happy to try it and publish it.