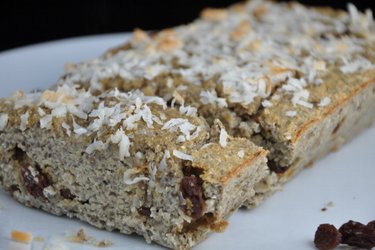 Coconut Flour Banana Bread (Sugar-free, Gluten-free)
Share this recipe with a friend:
Tender coconut flour banana bread without any gluten or sugar, or another sweetener, that will really fill you up and provide a lot of health benefits. You will definitely like this combination of coconut and bananas in this tasty and especially healthy breakfast bread.
Thanks to coconut flour, it is rich in fiber, naturally gluten-free and contains less carbohydrates than classic wheat-flour banana bread. What is the next advantage, you won't need any sugar or other sweetener for sweetening, bananas in the dough will take care of the sweet taste. If you don't have coconut flour at home by now, I definitely recommend buying it - it is very healthy, tasty, you need to use much less of it in recipes than of other flours (so it will last long). Additionally, I have many coconut flour recipes for you on my website, that are worth trying out. This healthy coconut flour bread with sweet bananas is clearly one of them.
Coconut flour is made of ground coconut meat. It contains almost no carbohydrates, and since it's rich in fiber, it can absorb a lot of liquid. Two spoons of coconut flour contain 6g of fiber, only 1.5g of fat, and 3.5g of protein. This nutritional value improves every recipe. One of the best advantages of coconut flour is that you don't have to use as much of it as other flour types. As a general rule, ¼ cup coconut flour corresponds to 1 cup all-purpose flour. Thanks to coconut flour, your baked goods will be healthy, fluffy, and light. Coconut flour is gluten-free, easier to digest, satisfies your appetite, and eliminates sweet cravings and ravenous hunger. It helps with weight loss and cleans your digestive system.
Instructions
In a blender, blend bananas with milk, eggs, and coconut oil until smooth.
In a bowl, mix coconut flour with chia seeds, baking powder, raisins, and cinnamon.
Then put both mixtures together and let to sit for about 5 minutes.
Pour the final mixture into a silicone bread form or into a form lined with parchment paper and bake at 150 degrees Celsius (300 °F) for about 50-60 minutes, until the skewer inserted into the dough comes out clean.
Before cutting, leave the bread to cool.
The bread tastes great with butter, nut butter, high-quality jam, honey, or all by itself.
Share this recipe with a friend:
| | | |
| --- | --- | --- |
| | Preparation time | 70 minutes |
| | Yields | 8 slices |
Nutritional information / 1 slice
Calories
225 Kcal
Carbohydrates
18 g
Fiber
9 g
Proteins
8 g
Fat
11 g
I am a fit food wizard nutritionist and I conjure up these healthy and tasty fitness recipes.
My goal is to show you that eating healthy can be easy-breezy.
Lucia Wagner
Comments