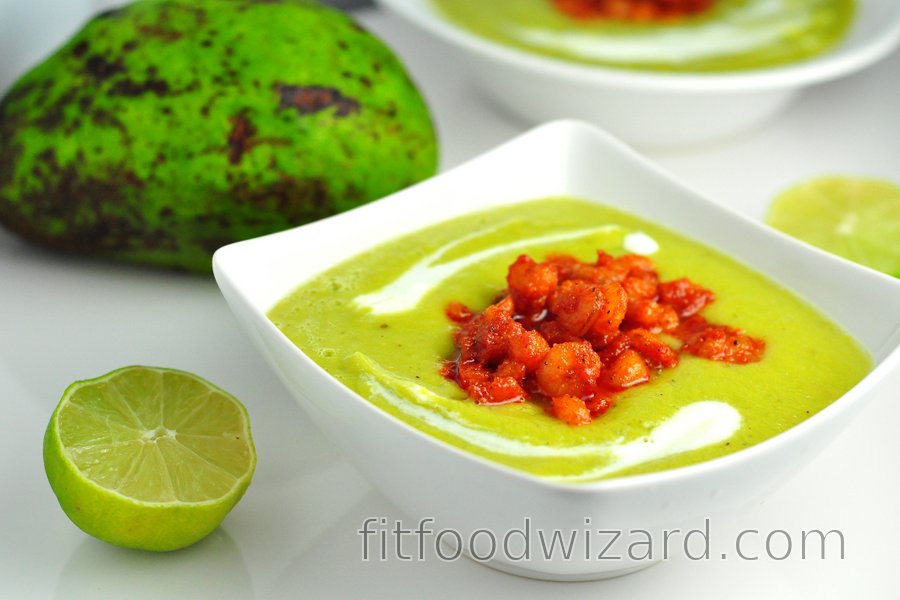 Cold avocado soup with spicy shrimp
If you like trying new, unusual recipes and at the same time adore avocados and shrimp, this recipe is perfect for you. This healthy cold avocado soup with spicy shrimp is especially suitable for warm summer weather. Thanks to the avocado, it is rich in healthy fats, potassium, and zucchini adds many vitamins too.
Thanks to the avocado and shrimp, the soup is quite filling, so you can also serve it as a lighter main course. I recommend using plant milk according to your taste (coconut, almond, oat, rice ...). Served with spicy shrimp, the soup is excellent and its tastes are in very pleasant contrast. Try it for yourself and let me know how you liked it. However, I warn you, if you prefer traditional flavors, reach for a more classic soup recipe :)
Ingredients
For the soup:
1 cup of vegetable broth
1/2 cup of milk (coconut, almond, plant,...)
1 avocado
1 zucchini
juice from 1 lime
pinch of ground black pepper
a little bit of parsley
For the shrimp:
200g of shrimp
1 tsp of coconut oil (I recommend this one)
1 tbsp of paprika
pinch of chilli spice
pinch of sea salt
pinch of garlic powder
Instructions
Blend all the ingredients for the soup together until smooth.
The soup is finished and can be stored in the refrigerator for now.
In a small pot, melt a teaspoon of coconut oil and add thawed shrimp.
Add spices and salt and stir until all the liquid has evaporated from the shrimp.
In the end, add the cooked shrimp to the prepared soup and serve.
You can also add a spoonful of white yogurt to the soup for decoration and milder taste.
| | | |
| --- | --- | --- |
| | Preparation time | 20 minutes |
| | Yields | 2 servings |
Nutritional information/ 1 serving
Calories
280 Kcal
Carbohydrates
5 g
Fiber
7 g
Proteins
23 g
Fat
18 g