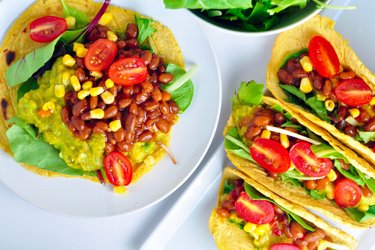 Corn tortillas filled with avocado and beans
Share this recipe with a friend:
You must try these healthy corn tortillas filled with avocado bean mixture. It's a simple vegan recipe you will surely get to love. If you want, you can also add meat and cheese. In addition, the food is rich in many vitamins and minerals, especially potassium. This vegan version of the tortilla with vegetables is ready in 30 minutes but will satiate you for a long time.
Corn tortillas are an amazing choice for a healthy and tasty lunch. They do not contain eggs, milk, yeast, or gluten and are therefore ideal for anyone suffering from food allergies. They are also low-calorie. If you are a tortilla lover, do not buy the convenient pre-made ones from the store, rather prepare these homemade, tasty, and also always fresh tortillas. On my website, you will find several other variants for healthy tortillas or pancakes, such as these spelt pancakes Fitness BBQ chicken breasts with spelt pancakes .
If you've been cooking with me for a while now, you know that avocado is just irresistible in healthy recipes. Deliciously creamy avocado on warm corn tortillas together with beans, corn, and other vegetables is simply divine as well as nutritious and healthy combination. So if you are looking for a recipe for a healthy lunch or dinner full of nutrients, you must try these corn tortillas filled with avocado and beans.
Tip: You can put the finished tortillas on the grid in the oven and bake them for 10-15 minutes at 190 °C. It will make for crunchy taco shells!
Ingredients
2 cups of corn flour (masa harina) (I recommend this one)
1 1/2 cups of warm water
1/2 tsp of sea salt
2 avocados
pinch of sea salt (I recommend this one)
pinch of ground black pepper
pinch of garlic powder
300g of tomatoes
200g of cooked beans
80g of sweet corn
a handful of lettuce
Instructions
In a bowl, mix cornflour with warm water and salt.
Make smaller balls out of the dough, then roll them out between two sheets of baking paper. It is better to make smaller tortillas so that they do not break during baking.
Then carefully place the tortillas on a dry hot pan using the baking paper and cook from both sides until golden brown (about 1-2 minutes on each side).
Place the finished tortillas between paper napkins to soften them.
In a bowl, mix the ripe avocado with salt and spices. Spread the mixture on tortillas.
On top of the avocado mixture, place salad, cooked beans, finely chopped tomatoes, and sweet corn.
Roll or fold the tortillas and serve them while they are still warm.
Share this recipe with a friend:
| | | |
| --- | --- | --- |
| | Preparation time | 35 minutes |
| | Yields | 4 servings |
Nutritional information /
Calories
600 Kcal
Carbohydrates
86 g
Fiber
18 g
Proteins
20 g
Fat
16 g
I am a fit food wizard nutritionist and I conjure up these healthy and tasty fitness recipes.
My goal is to show you that eating healthy can be easy-breezy.
Lucia Wagner
Comments