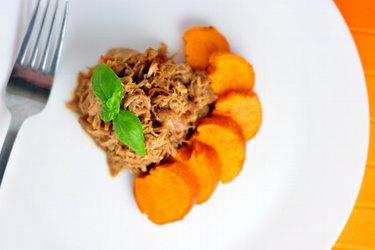 Delicious honey pulled chicken with sweet potatoes
Share this recipe with a friend:
Try this delicious and tender honey pulled chicken with sweet potatoes - you will surely get to love it. Preparing this dish is really easy and you will certainly not make it only once. Chicken meat absorbs all the wonderful flavors of the honey-garlic marinade and the sweet taste of sweet potatoes will pleasantly unify the whole meal. It is healthy low-fat lunch, which satiates well and gives the body a ton of proteins, vitamins, and minerals.
Compared to other types of meat, chicken is easier to digest, contains little fat, and is full of protein. In addition, it is very easy to prepare - it often only takes a few minutes. However, if you want to enjoy meat full of flavors, I recommend marinating in the evening before and letting it stand in the fridge overnight. The chicken will be delicious even without it, but after a night spent with honey, garlic, and soy sauce, all these flavors will soak into the structure of the meat and each bite will be softer and more flavorful. Stewing the meat on a low flame for up to 2 hours will achieve a unique structure - the chicken meat will be completely tender and it will shred beautifully and melt on the tongue. However, if you don't have that much time, you can stew it for less than an hour.
This fit lunch is without flour, eggs, milk, and nuts - suitable for any food allergy sufferers. Sweet potatoes are loaded with minerals, vitamins, and especially fiber, thanks to which they are really filling and at the same time help proper digestion. Their taste is sweeter than ordinary potatoes, as their name suggests, which makes them perfect for this honey chicken.
You can serve the shredded honey chicken with sweet potatoes and also with your favorite salad. Bon appetite!
Instructions
In a bowl, prepare a marinade by mixing honey, soy sauce, and crushed garlic.
Put the whole washed chicken breast (or thighs) in the marinade, cover the bowl with foil and store in the refrigerator for at least 30 minutes, preferably overnight. If you are in a time crunch, you don't have to let the meat soak in the marinade, it will be great nevertheless.
Heat coconut oil in a larger pot and lightly fry the finely chopped onion until golden brown.
Add the whole marinated meat and 1 and 1/2 cups of water, cover and let simmer for 2 hours, stirring occasionally, until the meat is completely soft.
In the meantime, prepare sweet potatoes.
Wash the potatoes, make a few holes in them with a knife, place them on a baking tray and bake for 40-60 minutes at 200 degrees, depending on how big they are.
Potatoes should be soft inside after baking and their skin should be easy to remove.
Before serving, shred the meat with a fork into strings and serve with sweet, peeled potatoes.
Share this recipe with a friend:
| | | |
| --- | --- | --- |
| | Preparation time | 140 minutes |
| | Yields | 5 servings |
Nutritional information / 1 serving
Calories
490 Kcal
Carbohydrates
58 g
Fiber
7 g
Proteins
50 g
Fat
5 g
I am a fit food wizard nutritionist and I conjure up these healthy and tasty fitness recipes.
My goal is to show you that eating healthy can be easy-breezy.
Lucia Wagner
Comments