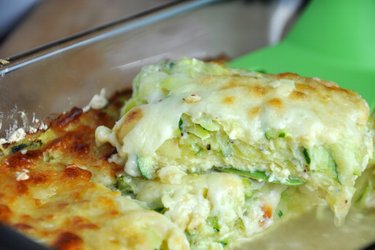 Delicious Zucchini Bake
Share this recipe with a friend:
For me, zucchini is a versatile, healthy and tasty summer vegetable that you can prepare in a million of ways. When it comes to cooking, it can replace a lot of unhealthy foods, so enjoy it and engage it in your culinary activities with no fear. You will be delighted with the excellent taste of prepared meals and improved digestion. Surely try this tasty and healthy zucchini recipe, combined with cheese and eggs.
Delicious zucchini bake is the proof that you don't need to bake only a heavy and flour cakes in the oven, but also healthy, easy and light meals. In this recipe, cheese will also take its delicious part, it will dissolve around the zucchini and create crunchy layers that make this zucchini dish even more irresistible for your taste buds.
As cheese, you can use grated mozzarella, it is really gorgeous when baked, or parmesan, that is characteristic by its more salty, distinctive taste.
This fit zucchini bake with cheese will blow your mind! It's very easy to make, the taste is irresistible and it still is food not heavy on stomach. You will be pleased by its higher protein content and low carbohydrate and calorie content too. It goes well with meat or as a garnish, but it's also perfect just by itself.
Ingredients
2 zucchinis (approx. 3 ½ cup grated zucchini)
2 eggs
½ tsp. sea salt (I recommend this one)
1 tsp. ground black pepper
100g (3.5oz) grated cheese (mozzarella, parmesan..)
Instructions
Peel and grate the zucchinis.
Try to drain the zucchinis of as much water as possible.
When all the water is out of the zucchinis, mix with eggs, salt, spices, and 2 spoonfuls of cheese.
Put dough into a baking bowl (e.g. 15x23cm), sprinkle with remaining cheese, and bake for 30 minutes at 190 degrees Celsius (375 °F), covered with tin foil.
After 30 minutes, remove the tin foil and bake for another 15 minutes until golden.
Share this recipe with a friend:
| | | |
| --- | --- | --- |
| | Preparation time | 50 minutes |
| | Yields | 4 slices |
Nutritional information / 1 slice
Calories
110 Kcal
Carbohydrates
3 g
Fiber
1 g
Proteins
10 g
Fat
7 g
I am a fit food wizard nutritionist and I conjure up these healthy and tasty fitness recipes.
My goal is to show you that eating healthy can be easy-breezy.
Lucia Wagner
Comments