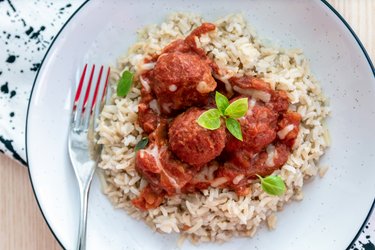 Fit meatballs in tomato sauce
Share this recipe with a friend:
Delicious fit meatballs in tomato sauce that will make you remember your childhood. The recipe is very simple and you will have it ready in 35 minutes. Come try it, I am sure you will love it in this improved version as well.
In this fit version of meatballs, you can use either minced turkey meat, for a more diet-friendly version, or minced beef for a dish not so dietary, but more distinctive in flavor. Beef has more fat, but if it doesn't bother you and you prefer a strong taste of the meat, you can use it in the recipe. In both cases, this recipe will be a success. Nutritional values ​​are calculated using turkey meat. I recommend brown rice because of its taste and higher fiber content, but if you don't have it at home right now, don't worry - use any other type of rice. And if you feel like it, replace the rice with quinoa, for example.
If you use a gluten-free version of flour, you can prepare these meatballs without gluten. You only need to use a little amount of flour, it serves as a binder. Finally, I highly recommend adding cheese to the tomato sauce, thanks to which it will be irresistibly creamy. Grated mozzarella is perfect for this, as it has great properties and melts quickly.
Put on an apron and prepare these fit meatballs in tomato sauce, I believe you will enjoy them.
Ingredients
500g of minced turkey (or beef) meat
3 tbsp of any flour
1 clove of garlic
1 tsp of mustard
salt, ground black pepper (to taste)
pinch of ground cumin
For the sauce:
50g of grated mozzarella (with low fat content)
300ml of tomato puree
1 can (400g) of peeled and crushed tomatoes
1 onion
oregano, salt, ground black pepper (to taste)
1-2 cloves of garlic
250g of rice
1 tbsp of oil (I recommend this one)
2 tsp of balsamic vinegar
Instructions
Salt and season the rice to taste and cook it in a double the amount of water until soft.
From minced meat, flour, crushed garlic, spices, and salt, create a homogeneous mixture and shape smaller balls from it.
Place the meatballs on a baking sheet lined with baking paper.
Bake them for 15 minutes at 190 degrees until baked in the middle.
In a larger pot or in a deep pan , cook finely chopped onions in hot oil.
Add tomato puree, peeled tomatoes, salt, spices, balsamic vinegar, and crushed garlic.
Let the sauce simmer and then add the baked meatballs and sprinkle them with grated mozzarella.
Cover the pot or pan and let the balls simmer in the sauce for another 5 minutes.
Serve meatballs together with tomato sauce and cooked rice.
Share this recipe with a friend:
| | | |
| --- | --- | --- |
| | Preparation time | 35 minutes |
| | Yields | 4 servings |
Nutritional information / 1 serving
Calories
570 Kcal
Carbohydrates
52 g
Fiber
9 g
Proteins
36 g
Fat
21 g
I am a fit food wizard nutritionist and I conjure up these healthy and tasty fitness recipes.
My goal is to show you that eating healthy can be easy-breezy.
Lucia Wagner
Comments