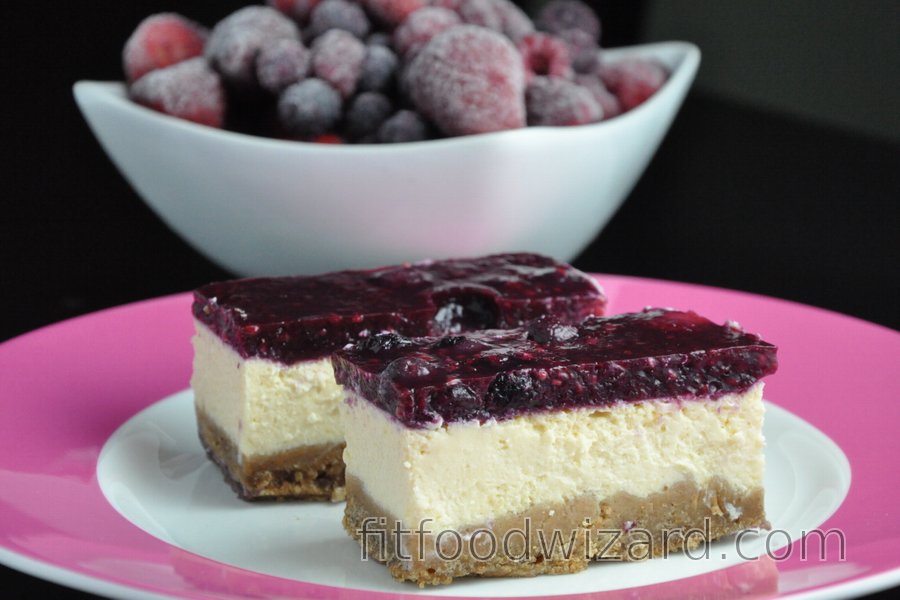 Fitness Yogurt Cheesecake (Gluten-free and Sugar-free)
You will definitely love this fitness yogurt cheesecake! Seriously, it's one of the best desserts ever and it is one of my most favorite cheesecakes too. His advantage is that it contains a high amount of protein and is completely gluten-free and sugar-free.
The bottom is made of almond flour and milk. Almond flour can be made easily by blending or grinding almonds into a fine flour. Cheesecake filling consists of Greek yogurt (I recommend using low-fat yogurt to maintain favorable nutritional values), eggs, protein powder and vanilla flavor. If you won't use a sweetened protein powder, the filling will need to be sweetened with honey or stevia. The top of the cheesecake is decorated with berry fruit gelatin. I used a mix of forest fruits, but you can also use raspberries or blueberries as well.
A great bonus is that this healthy and fit yogurt cheesecake is also low carb, it contains only 8 g of carbohydrates per serving. If you don't have protein powder on hand, you can substitute it with dried milk powder, pudding mix, or cocoa (for cocoa cheesecake) and sweeten it to your taste. However, this way you will lose its high protein content.
1 cup in the recipe represents 250 ml. I used a bread form for this fitness cheesecake, but you can also use a smaller cake pan with a diameter of about 20 cm.
Try this easy protein cheesecake, I'm sure you will get to love it.
Instructions
In a bowl, mix ground almonds (or almond flour) with 5 spoonfuls of milk.
Press dough into the bottom of a cake pan or baking pan and make it even.
Mix all ingredients for filling thoroughly.
Taste to make sure it's sweet enough, and if necessary, add sweetener.
Pour filling onto dough.
Bake cheesecake at 165 degrees Celsius (325 °F) for 40 to 45 minutes until the top and edges turn brown.
Take it out of the oven and let cool.
Prepare cheesecake icing in a small pot.
Mash fruit with a fork and fold in gelatin.
Cook this mixture for a while (don't let it boil) and pour onto the cheesecake.
Refrigerate the whole cheesecake for at least 8 hours. 

*may be substituted with pudding mix and sweetened to taste
| | | |
| --- | --- | --- |
| | Preparation time | 55 minutes |
| | Yields | 8 slices |
Nutritional information/ 1 slice
Calories
220 Kcal
Carbohydrates
8 g
Fiber
3 g
Proteins
22 g
Fat
12 g