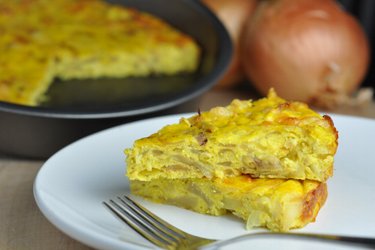 Gluten-Free Onion Pie
Share this recipe with a friend:
I am warning you in advance that you will want to eat this fit gluten-free onion pie all at once and not show it to anyone. Its taste is really irresistible - of course, only if you love onions :)
This fit savory pie holds together thanks to eggs, cheese and coconut flour, that provides it with a lot of fiber, without unnecessary gluten. However, if you don't have coconut flour at hand, you can replace it in this recipe with any other flour. Turmeric adds to this pie's interesting flavor and color.
The savory onion pie is healthy and low carbohydrate at the same time, but it will also delight you with its high protein content. In addition to its positive nutritional features, it can of course also take pride of its delicate taste. It is suitable as a filling and healthy breakfast instead of classic scrambled eggs, but it is also ideal as a light dinner. You can also serve it as garnish to various meat dishes. Because the pie is easy and quick to prepare, really anyone can make it. You can also add in dried tomatoes or chives to diversify the flavors.
One serving of the low carb onion pie contains: 14% RDA of Calcium 9% RDA of vitamins A, D, B-12
Prepare this healthy gluten-free onion pie for yourself and your family and see that it will disappear at the speed of lightning.
Ingredients
2 large onions
6 eggs
120 g (4.3 oz) plain yogurt
1/4 cup coconut (or other) flour (I recommend this one)
1/2 cup grated mozzarella
1 Tbsp coconut oil (I recommend this one)
1 tsp sea salt
pinch of ground black pepper
pinch of turmeric
Instructions
Chop onions finely.
On a hot pan, heat up a spoonful of oil and sauté the onions until translucent.
In a bowl, combine eggs with yogurt, salt and pepper.
Add in sautéed onion, grated cheese and coconut (or other) flour and mix the dough thoroughly.
Pour the dough into a baking pan greased with oil or into a silicone springform (with a diameter of 20-25 cm (8-9 in)).
Bake the onion pie for 40-45 minutes at 180 degrees Celsius (355 degrees Fahrenheit) until golden on the top.
Allow the pie to cool down for at least 10 minutes before removing from the pan.
Share this recipe with a friend:
| | | |
| --- | --- | --- |
| | Preparation time | 60 minutes |
| | Yields | 6 slices |
Nutritional information /
Calories
137 Kcal
Carbohydrates
4 g
Fiber
3 g
Proteins
10 g
Fat
9 g
I am a fit food wizard nutritionist and I conjure up these healthy and tasty fitness recipes.
My goal is to show you that eating healthy can be easy-breezy.
Lucia Wagner
Comments
✉️ Send me your favorite recipe.
Do you like to cook healthy and want to publish your favorite recipe on Fit Food Wizard?
Email
it to me and I will be happy to try it and publish it.