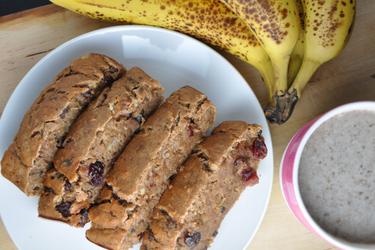 Healthy Banana Bread (Sugar-Free, Fat-Free)
Share this recipe with a friend:
Prepare for your breakfast this excellent, smooth and at last but not least healthy banana bread with no sugar and no fat added. This homemade banana bread is rich in protein and dietary fiber, and on the other hand it contains less calories and a minimum amount of fat per portion (only 2 g).
It is very simple to prepare and its main ingredients are whole-wheat flour, protein powder and of course, bananas. You are even able to prepare it in just a single bowl and in a few minutes. I definitely recommend this recipe, if you haven't tried the banana bread yet, and you fancy its healthier fitness version with higher protein content.
You can prepare this bread without using the protein powder, if you want. In this case, you can replace it with whole-wheat flour. At the end, I recommend to admix cranberries and finely chopped nuts or alternatively cocoa nibs or pieces of dark chocolate into the dough. For the best result, it is ideal to use overripe bananas for this banana bread.
This banana bread is like made up for healthy breakfast for the whole family. This bread fills you up already after just a few slices. You can top it up with a high quality homemade jam, peanut butter, but stand-alone tastes totally awesome too.
Ingredients
1 ½ cup whole-wheat flour (I recommend this one)
¼ cup (40g) protein powder – non-flavored, vanilla, or chocolate flavor (may be substituted with flour) (I recommend this one)
3 ripe bananas
⅔ cup milk
2 eggs (or 2 Tbsp flaxseed meal mixed with 6 Tbsp water)
1 Tbsp vinegar (if using eggs, may be omitted)
1 tsp. baking powder
1 tsp. vanilla extract
pinch of sea salt
cranberries, cocoa nibs, nuts (optional)
Instructions
In a bowl, mash bananas with a fork and add all wet ingredients.
Mix the dough thoroughly and fold in remaining ingredients.
Pour the dough into a bread form (preferably a silicone one) and bake at 180 degrees Celsius (350 °F) for 45 to 50 minutes.
After baking, leave the bread to cool down, then cut and serve.
Share this recipe with a friend:
| | | |
| --- | --- | --- |
| | Preparation time | 55 minutes |
| | Yields | 10 slices |
Nutritional information / 1 slice
Calories
138 Kcal
Carbohydrates
21 g
Fiber
4 g
Proteins
7 g
Fat
2 g
I am a fit food wizard nutritionist and I conjure up these healthy and tasty fitness recipes.
My goal is to show you that eating healthy can be easy-breezy.
Lucia Wagner
Comments