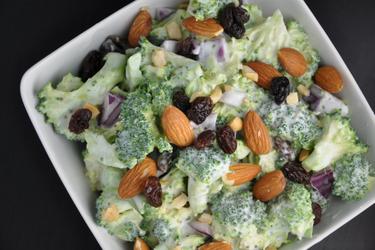 Healthy Broccoli Salad with Raisins and Almonds
Share this recipe with a friend:
I swear this is the best broccoli salad I've ever tried. First time tried it in the original version during a Christmas dinner in Denmark, where it is a kind of traditional recipe. However, I transformed it into a healthier and more diet version, and I promise that it didn't reduce its great taste in any way.
Certainly don't be afraid of raw broccoli, it is amazingly crunchy and in my humble opinion, it tastes much better than cooked or stewed broccoli. And it is just irresistible together with other ingredients of this salad and simple yogurt dressing. Try this slightly sweet healthy broccoli salad once and see for yourself.
As it is customary with my recipes, this one is not difficult as well, and you can prepare it in less than 10 minutes including the cleaning of vegetables. This fit salad can be served alone or as a side dish with meat or fish. Another advantage is, that you'll find high protein content in it. You will see that the entire family will like it.
Why is broccoli so healthy and why is it recommended to eat it raw?
Broccoli is a great source of anti-cancer substances that neutralize carcinogens and removes them from the body. The best way is to eat broccoli raw so that the broccoli retains all its important vitamins and enzymes. One cup of broccoli contains more than 2 grams of protein, 2 grams of fiber, 288 milligrams of potassium, 43 milligrams of calcium, 81 milligrams of vitamin C and folates, magnesium, phosphor, beta-carotene, vitamin A, lutein, and zeaxanthin.
Ingredients
200g (7oz) plain Greek yogurt
⅓ red onion
handful of sunflower seeds
handful of raisins
handful of almonds (or other nuts) (I recommend these)
2 Tbsp honey (I recommend this one)
1 tsp. lemon juice
salt and black pepper (to taste)
300g (10.6oz) fresh broccoli
Instructions
In a bowl, mix yogurt with lemon juice and honey.
Add fresh, washed, and cut broccoli (don't steam, don't cook), finely chopped onion, and all other ingredients.
Mix salad thoroughly and place into a refrigerator for at least 1-2 hours.
Share this recipe with a friend:
| | | |
| --- | --- | --- |
| | Preparation time | 10 minutes |
| | Yields | 2 servings |
Nutritional information / 1 serving
Calories
294 Kcal
Carbohydrates
34 g
Fiber
6 g
Proteins
12 g
Fat
13 g
I am a fit food wizard nutritionist and I conjure up these healthy and tasty fitness recipes.
My goal is to show you that eating healthy can be easy-breezy.
Lucia Wagner
Comments