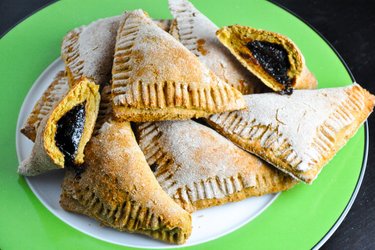 Healthy Carrot Pastry
Share this recipe with a friend:
Homemade carrot pastry with plum filling has always been my favorite one. This healthy carrot pastry is a modified version of a traditional carrot pastry filled with plum jam. Thanks to the added chickpea flour, it contains more protein and fiber. Furthermore, it contains neither sugar nor hydrogenated fat.
The recipe is very easy and you will also enjoy its favorable nutritional values. Pastry has overall low fat content (only 3 grams per piece), as most of the fat that should go into the classic recipe is replaced in this recipe by applesauce and bananas. Jam can be prepared simply by cooking dried plums and dates, which will add sweetness to the pastry without adding any sugar or honey into it. And this is another huge advantage over the classic recipe - these have lower carbohydrate and calorie content.
In case you do not have chickpea flour at home, you can replace it with whole-wheat flour, just make sure that the consistency of the dough is thick enough and easy to roll.
Try my healthy and fit carrot pastry for example as a weekend breakfast or a morning snack to take to work or school.
Instructions
Prepare the jam first.
Place plums, dates, and water into a small pot and let boil.
Stir and press with a fork, occasionally, to let the ingredients form into a jam.
When the mixture is smooth and half-firm, put the jam away and let it cool.
In a blender, blend together carrots, bananas, applesauce, and coconut oil until smooth.
Pour the mixture into a bowl, add chickpea flour, whole-wheat flour, and baking powder, and form a dough.
If the dough is too soft and sticky, add a bit of whole-wheat flour.
When the dough is done, roll it into thin pieces, cut into squares, and put ½ a teaspoon of jam in the middle of each piece.
Fold each square to create a triangle and crimp the edges with a fork.
Place carrot pastry onto a baking sheet lined with parchment paper and bake in a preheated oven at 180 degrees Celsius (350 °F) for about 25 to 33 minutes (it depends on the pastry size and the oven). If you overbake the pastry, it's going to be stiffer. Test it after 20 minutes by using a skewer. If it comes out clean, with no streaks of dough, the pastry is done.
Warm the pastry before eating.
Share this recipe with a friend:
| | | |
| --- | --- | --- |
| | Preparation time | 50 minutes |
| | Yields | 15 servings |
Nutritional information / 1 serving
Calories
182 Kcal
Carbohydrates
27 g
Fiber
5 g
Proteins
7 g
Fat
3 g
I am a fit food wizard nutritionist and I conjure up these healthy and tasty fitness recipes.
My goal is to show you that eating healthy can be easy-breezy.
Lucia Wagner
Comments