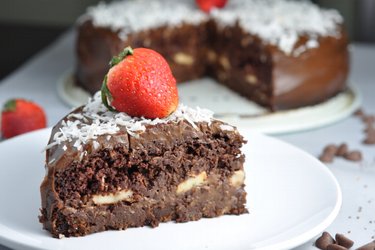 Healthy Chocolate Fitness Cake "Chocoholic"
Share this recipe with a friend:
Delicious, easy and healthy chocolate fitness cake "Chocoholic" is egg-free and flourless, topped with a tasty avocado-cocoa cream. It is tender, irresistibly creamy, but mostly - it is chocolate-y! All chocoholics will get to love this recipe for sure ;)
Who would have guessed that from ingredients like carrot, avocado, oats and bananas can arise such a delicious cake? Well, see for yourself on your own eyes, this fit cake is worth a try. And I believe you won't make this cake for the first and the last time. Thanks to addition of avocado and bananas, this healthy chocolate cake contains a lot of potassium and fiber and is also a great source of healthy fats. This cake is also suitable for vegans, as it doesn't contain any eggs or dairy products. Use raw carrot in the recipe, and if necessary, replace applesauce with baby food.
Perfect healthy chocolate icing made from avocado gives the cake the finishing oomph and, in conjunction with bananas or strawberries, it is almost addictive. So, if you desire a healthy and nutritionally valuable chocolate dessert, you don't need to search any further. For us at home, this is the best healthy chocolate cake ever, certainly try this recipe out too. The healthy chocolate fitness cake "Chocoholic" is truly one of its kind.
To reduce a content of carbohydrates in the cake, you can use 2 scoops of protein powder (vanilla or chocolate flavor) instead of cane sugar for the cream (I recommend this one) .
Ingredients
180 g (6.3 oz) carrots
3 large ripe bananas
1/4 cup applesauce
1/4 cup melted coconut oil (I recommend this one)
1 cup water
2 cups oats (I recommend these)
1 cup coconut or cane sugar (or 1.5 cup xylitol) (I recommend this one)
3/4 cup cocoa (I recommend this one)
1 tsp vanilla extract or 1 vanilla pod
pinch of sea salt
2 tsp baking powder (or bicarbonate soda)
For the cream:
2 ripe avocados
1/2 cup cane sugar (or coconut sugar, or xylitol) (I recommend this one)
1/4 cup cocoa
1 tsp vanilla extract or 1 vanilla pod (optional)
For the filling:
banana, strawberries (or other fruit)
Instructions
In a blender, blend bananas and carrots together into smooth puree.
Then blend oats or grind them into fine flour.
In a bowl, stir the puree with other wet ingredients and then stir in all the remaining ingredients for the cake.
Stir the dough thoroughly and pour it into a springform cake pan sprayed with oil or lined with parchment paper (about 25 cm (10 in) in diameter).
Bake the cake for 40 minutes at 180 degrees Celsius (355 degrees Fahrenheit).
After that, let it cool down properly and then cut in half horizontally. The cake will be tender inside, thus cut it carefully.
Prepare the chocolate cream by blending all the ingredients for the cream in a food processor until smooth.
Spread half of the cream inside the cake, top with sliced fruit and cover with the second part of the cake base.
Then spread the remaining cream over the edges and top of the cake.
It is best to leave the cake sit in the refrigerator overnight, before cutting.
Share this recipe with a friend:
| | | |
| --- | --- | --- |
| | Preparation time | 55 minutes |
| | Yields | 10 slices |
Nutritional information / 1 slice
Calories
303 Kcal
Carbohydrates
53 g
Fiber
8 g
Proteins
5 g
Fat
11 g
I am a fit food wizard nutritionist and I conjure up these healthy and tasty fitness recipes.
My goal is to show you that eating healthy can be easy-breezy.
Lucia Wagner
Comments