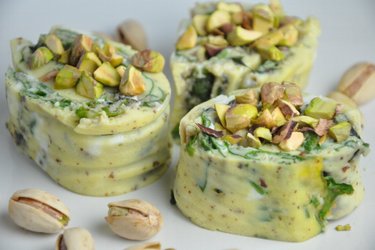 Healthy Egg Roll
Share this recipe with a friend:
The egg is a very thankful helper in the kitchen, because it can connect the non connectable and brings the satiety to the meal, so after an omelette you can withstand until the lunch. Healthy egg roll is a great innovation to your breakfast and moreover, you can enrich it with crunchy pistachios and creamy cottage cheese or Greek yogurt.
Pistachios have the highest iron content among the nuts, and they are also rich in copper, potassium, phosphorus and calcium. As well as provitamin A and a whole range of B vitamins. Their regular consumption is beneficial for the skin, the nervous system, lowering of cholesterol and the overall growth and development of the human organism. They also help to reduce the risk of lung cancer, reduce signs of stress and anxiety, and improve the immune system. And they are incredibly tasty.
The delicious egg roll that you'll serve according to my recipe is flour-less and it combines a lot of unsubstitutable flavors. Enrich it, for example, with figs and a dose of green spinach, and you can proudly serve it to your valued visitors. Almond flour brings an interesting flavor to the roll and can be easily prepared by blending or grinding almonds.
This simple gluten-free egg roll is perfect as a light breakfast, dinner, or as an appetizer and snack for guests.
Ingredients
Roll:
6 eggs
30g (1oz) almond flour (I recommend this one)
120ml (4 fl.oz) milk
2 handfuls of chopped lettuce or spinach
¼ tsp. sea salt (I recommend this one)
¼ tsp. ground black pepper
Garnish:
4 Tbsp plain Greek yogurt or cottage cheese
3 Tbsp chopped pistachios
tomatoes or figs
Instructions
Blend the eggs, almond flour, milk, and seasonings together with a hand blender or whisk.
Line deeper baking sheet or baking form (approximately 38x25cm) with parchment paper and sprinkle the cut lettuce or spinach.
Pour the egg mixture over the salad and bake at 180 degrees Celsius (350 °F) for 12 minutes or until the eggs are set.
When the omelet edges begin turning brown and it's baked in the middle, take out of the oven and let sit for 3 minutes.
Spread with yogurt, cottage cheese, or other spreadable cheeses, and roll carefully.
Cut the roll into pieces, sprinkle with chopped pistachios, and serve either warm or cold with tomato or fresh figs.
Store the roll in the refrigerator and eat within 2 days.
Share this recipe with a friend:
| | | |
| --- | --- | --- |
| | Preparation time | 20 minutes |
| | Yields | 8 slices |
Nutritional information /
Calories
113 Kcal
Carbohydrates
3 g
Fiber
1 g
Proteins
8 g
Fat
8 g
I am a fit food wizard nutritionist and I conjure up these healthy and tasty fitness recipes.
My goal is to show you that eating healthy can be easy-breezy.
Lucia Wagner
Comments