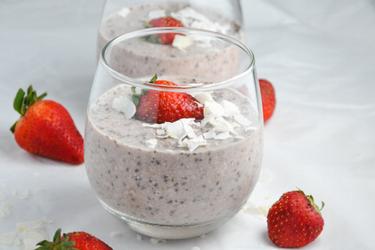 Healthy Strawberry Overnight Oats
Share this recipe with a friend:
Easy recipe for healthy and tasty breakfast full of omega-3 fatty acids and fiber – and prepared in less than 5 minutes. Try these strawberry overnight oats with coconut and chia seeds - I just love this combination!
Big advantage of this recipe and of overnight oats in general is that you can prepare them a day in advance and they will be exactly what they should be in the morning - cold, creamy and delicate. You don't need to hurry with the breakfast, just take them out of the refrigerator and enjoy them within a few minutes. In the recipe you can use any milk, whether it is cow, coconut, rice, oat or almond milk.
Oats are one of the most perfect breakfast foods. Thanks to their nutrients, they are also suitable for weight loss. They contain complex carbohydrates with a gradual release, and have a low glycemic index. They contain a lot of insoluble and soluble fiber (which make them beneficial for digestion), help to combat high blood pressure, and fill you up for a long time. Thanks to omega-3 unsaturated fatty acids, regular oat consumption has a positive influence on the cholesterol level in blood. According to scientific studies, oats are designated as a good form of cancer prevention. With regular consumption, oats confer to your body fiber and nutrients that combat this disease. Oats contain a high amount of manganese (beneficial for healthy functioning of the nervous system, immune system, bones, and teeth health), vitamin K (necessary for blood coagulation and lowers cancer risk), phosphor, potassium, calcium, iron, zinc, and many other nutrients.
Instructions
In a blender, blend strawberries until smooth.
Pour the mash into a bowl and mix with the rest of the ingredients.
Portion this mixture into bowls or bottles, close with a lid, and place into the refrigerator for 5 hours.
Share this recipe with a friend:
| | | |
| --- | --- | --- |
| | Preparation time | 5 minutes |
| | Yields | 4 servings |
Nutritional information / 1 serving
Calories
375 Kcal
Carbohydrates
44 g
Fiber
12 g
Proteins
13 g
Fat
12 g
I am a fit food wizard nutritionist and I conjure up these healthy and tasty fitness recipes.
My goal is to show you that eating healthy can be easy-breezy.
Lucia Wagner
Comments
✉️ Send me your favorite recipe.
Do you like to cook healthy and want to publish your favorite recipe on Fit Food Wizard?
Email
it to me and I will be happy to try it and publish it.