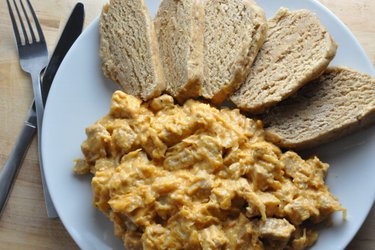 Healthy Szegedin Goulash with Whole-Wheat Flour Dumpling
Share this recipe with a friend:
Szegedin goulash is one of the most traditional recipes of Hungarian cuisine. However, the original recipe is quite heavy for the stomach and doesn't have the most favorable nutritional values. So I modified it into a healthier and more diet version, and we really enjoyed it at home, so I must share this recipe with you. You can even enjoy this szegedin goulash during the diet.
In contrast to the classic one, my modified szegedin goulash has more protein and fiber content and less calorie and fat content. The traditional recipe is made of pork, but because it is a meat too rich in fats and does not really belong among the healthiest ones, I have prepared it from turkey breasts, but you can also use chicken breasts. Both are rich in protein and contain low amount of fat.
This fitness szegedin goulash can be served with homemade whole-wheat flour dumpling that is even easier to prepare than you might think. Maybe I can convince you. To thicken the sauce, use Greek yogurt with at least 3% of fat, otherwise it may clot. Thanks to the use of Greek yogurt, this version of szegedin has a high protein content.
Get inspired and try out this delicious and healthy szegedin goulash.
Instructions
Prepare dumplings first.
Make a leaven out of 200ml water, yeast and honey and let it sit for about 10 minutes.
Then, add in flour, the rest of the water, oil, and salt.
Knead the dough – it shouldn't stick to the bowl nor to your hands.
Shape the dough into 2 dumplings and let them rise in a warm place (30 to 45 minutes).
When risen, steam for 20 to 25 minutes.
In a bigger pot, melt a tablespoon of oil and finely cut onion, and sauté until golden.
Add diced meat.
For a moment, remove the pot from the heat and add ground red paprika and black pepper.
Mix together and place the pot back on the heat, cover, and stew for approximately 20 minutes.
Stir occasionally, if the meat scorches, add water as needed (the less water, the better).
When the meat is soft, add rinsed sauerkraut and stir.
Let sauerkraut and meat stew for 10 minutes.
When the sauerkraut is soft, remove the pan from the heat.
Before eating, mix in the Greek yogurt as needed – it will be thicker and taste smoother. Do not fold in while cooking, as lumps can form. I don't recommend using low fat yogurt, but rather yogurt with 3% or more fat content.
Share this recipe with a friend:
| | | |
| --- | --- | --- |
| | Preparation time | 70 minutes |
| | Yields | 6 servings |
Nutritional information / 1 serving
Calories
475 Kcal
Carbohydrates
61 g
Fiber
15 g
Proteins
33 g
Fat
7 g
I am a fit food wizard nutritionist and I conjure up these healthy and tasty fitness recipes.
My goal is to show you that eating healthy can be easy-breezy.
Lucia Wagner
Comments