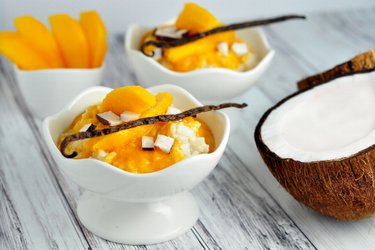 Healthy vanilla milk rice pudding with mango
Share this recipe with a friend:
Simple healthy milk rice pudding with an immutable exotic taste. Try it as a dessert, breakfast, a sweet main course, or as a tasty and nutritious snack. If you are bored with ordinary rice in milk, you definitely will not be with this mango and vanilla combination.
Healthy vanilla milk rice pudding with mango is absolutely easy to prepare and you only need a few ingredients. If you would like to increase the amount of protein in the recipe, you can mix in a scoop of vanilla protein (I recommend this one) .
Mango is a food that I find perfect especially for women. It takes care of nice skin and hair, which all of us women can definitely appreciate. It also has a positive effect on high blood pressure and hormones, which is definitely a harder job, especially for those women who have small children at home :) That's why I think we, dear ladies, should include mango in our diets. In this rice pudding, I recommend dividing the mango and blending one half into a puree, which you mix into milk rice to get a delicious uniform mango flavor. Cut the other half of the mango into small pieces and mix in the rest of the pudding. You will thus always be surprised by small bits of mango and the whole meal will be all the more enjoyable.
The rice pudding is gluten-free, you don't even need eggs in this recipe, and with the use of coconut or almond milk and a different sweetener than honey, you can easily whip up a vegan version as well. This milk rice pudding is low-fat and relatively diet-friendly, but at the same time, 1 serving will satisfy you enough. The recipe for fit vanilla milk rice pudding with mango is definitely worth a try.
1 cup = 250 ml
Ingredients
1 cup of brown or other rice
3 cups of almond/coconut/cow milk
2-3 tbsp of honey (or stevia to taste) (I recommend this one)
1 vanilla bean
2 mangos
toasted coconut (optional)
Instructions
Cover the rice with milk in a pot and cook it until soft (about 15 minutes).
When the rice is ready, mix in the honey and vanilla bean seeds.
Mango can either be cleaned and then blended into a puree or cut into small pieces.
Mix the mango into the rice.
You can sprinkle the milk rice pudding with coconut flakes.
Share this recipe with a friend:
| | | |
| --- | --- | --- |
| | Preparation time | 25 minutes |
| | Yields | 4 servings |
Nutritional information / 1 serving
Calories
281 Kcal
Carbohydrates
56 g
Fiber
7 g
Proteins
6 g
Fat
2 g
I am a fit food wizard nutritionist and I conjure up these healthy and tasty fitness recipes.
My goal is to show you that eating healthy can be easy-breezy.
Lucia Wagner
Comments