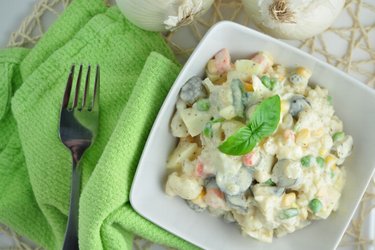 Light Cauliflower Salad (Low Calorie, Low Fat)
Share this recipe with a friend:
If you like potato salad, but you would like to try it in a lighter and less caloric form, try to make it using cauliflower and yogurt. Its taste is not so different from the classic potato salad, so don't hesitate and try this diet alternative out. It's a great way on how to include more cauliflower in your menu. Indulge yourself with this fit and light cauliflower salad, for example during Christmas instead of the classic potato mayonnaise salad, and you'll see that you feel much better and lighter after the Christmas dinner.
One serving of this cauliflower "potato" salad is a great source of protein, fiber, C, A and B vitamins, phosphorus, manganese, magnesium, copper, zinc, and calcium too. Cauliflower is rich in vitamins, minerals, antioxidants and also contains a lot of fiber that promotes digestion.
Of course, nobody says you can't enjoy classic mayonnaise potato salad during Christmas. But if you are looking for a healthier alternative, after which you won't be all of a tizzy after standing on a scale, I think this fit salad is worth trying. Besides Christmas, you can enjoy this light cauliflower salad at any time of the year as a garnish along with meat or fish.
Every healthy lifestyle enthusiast should try this easy recipe for a healthy cauliflower salad because it not only has a lot of health benefits, but it is also low calorie, low fat and full of protein. Make your Christmas table complete also with some healthy desserts and enjoy the Holidays without any remorse.
Ingredients
1 medium cauliflower head
300 g (10.6 oz) frozen/sterilized vegetables (mix of carrots, peas, corn)
100 g (3.5 oz) pickles
2 hard-boiled eggs
1 onion
200 g (7.1 oz) Greek yogurt
2 Tbsp mustard
1/2 tsp sea salt
pinch of ground black pepper
Instructions
Cut the cauliflower into florets and steam it in a pot for 15 minutes until tender.
Meanwhile, combine the thawed or sterilized vegetables, finely chopped pickles, onions, and hard-boiled eggs in a large bowl.
Mix in Greek yogurt, mustard, season with salt and pepper to your taste.
Add the steamed and finely chopped cauliflower into the salad and mix thoroughly.
Place the salad into refrigerator and serve it cold.
Share this recipe with a friend:
| | | |
| --- | --- | --- |
| | Preparation time | 25 minutes |
| | Yields | 4 servings |
Nutritional information / 1 serving
Calories
182 Kcal
Carbohydrates
18 g
Fiber
10 g
Proteins
15 g
Fat
3 g
I am a fit food wizard nutritionist and I conjure up these healthy and tasty fitness recipes.
My goal is to show you that eating healthy can be easy-breezy.
Lucia Wagner
Comments
✉️ Send me your favorite recipe.
Do you like to cook healthy and want to publish your favorite recipe on Fit Food Wizard?
Email
it to me and I will be happy to try it and publish it.