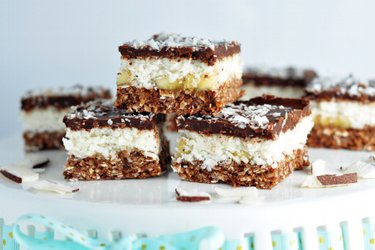 No-Bake Coconut Chocolate Dessert
Share this recipe with a friend:
Do you love coconut? Then, don't hesitate and try out this easy no-bake coconut chocolate dessert without flour. It will fill you up, give you a good dose of healthy fats and will eliminate your sweet cravings for sure. You will certainly get to love it in combination with chocolate. It's great for breakfast, or as a dessert at any time of the day. And moreover, it takes only 15 minutes to prepare.
All you need is a high-quality food processor (I recommend this one) that will blend the cake base and coconut filling thoroughly. The cake dough can be prepared in just a few minutes and it's the same case with the filling. Both parts need to be layered and allowed to firm in the refrigerator. The result will be such a tasty coco-choco cake, full of healthy ingredients. For this type of dessert, it's the best to use a coarsely shredded coconut, because if you use the finely shredded one, your filling will most likely crumble.
This healthy no-bake coconut chocolate dessert is egg-free and thanks to the use of oats and coconut (lots of coconut), it also is flourless. You can create a vegan version very easily, by replacing honey with another liquid sweetener, such as maple or agave syrup.
This healthy coconut dessert is full of healthy fats and nutrients and smells like a real coconut heaven. It is ideal for any regular day as well as for Holiday table among other Christmas treats.
Instructions
Drain dates (or raisins) and blend them together with the rest of the ingredients for the dough in a food processor.
When all the ingredients are blended together thoroughly, press the resulting dough into a cake pan lined with parchment paper (with dimensions about 20x20 cm (8x8in)).
Slice the banana and lay it out evenly on the dough.
Wash the food processor and then blend together all the ingredients for coconut filling. I recommend using a high quality food processor and if the filling doesn't thicken after couple of minutes, add in more water or milk.
Spread the resulting coconut filling onto prepared cake base.
Finally, melt dark chocolate with coconut oil in a water bath (or in microwave).
Stir the melted chocolate thoroughly and pour it over the cake evenly (do not spread).
Refrigerate the cake for at least 3 hours and then cut it into 16 pieces.
Share this recipe with a friend:
| | | |
| --- | --- | --- |
| | Preparation time | 15 minutes |
| | Yields | 16 slices |
Nutritional information / 1 slice
Calories
207 Kcal
Carbohydrates
25 g
Fiber
2 g
Proteins
3 g
Fat
11 g
I am a fit food wizard nutritionist and I conjure up these healthy and tasty fitness recipes.
My goal is to show you that eating healthy can be easy-breezy.
Lucia Wagner
Comments