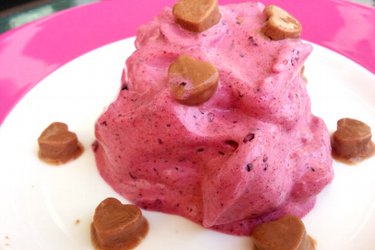 Protein Fruit Mousse with Yogurt Drops
Share this recipe with a friend:
Very simple and yet so amazing, lightweight and low calorie dessert full of protein. There is no flour, no added sugar or fat in it. This is simple protein fruit mousse with yogurt drops. What else could we expect from a fit dessert, though?
For some, the only drawback may be, that this fruit mousse contains raw egg white. However, if you don't mind it, please use organic eggs or from proven sources to avoid any inconveniences. I usually use organic eggs from the store, even though I admit that I tried it with ordinary ones and it had no consequences. Another way to avoid the inconveniences of eating raw eggs is that you can whip the eggs whites over a pot of boiling water.
This recipe also has two versions:
without protein powder = for those who do not use or do not have the protein powder
with protein powder = simply for those who included it into their diet (it can be without flavor or of any flavor, I've tried more options and the result was always great)
Even without adding the protein powder, is this fruitful mousse full of protein, thanks to that naughty egg white, so if you want protein dessert, go for it. I'm used to prepare this mousse especially as a breakfast, morning snack, and sometimes as a dessert. With melting yogurt choco drops, it is really irresistible.
Instructions
Blend all the ingredients for the mousse in a food processor for 4 to 5 minutes.
The mousse size should be tripled in volume (if you used frozen fruit, let them defrost a bit before blending).
When the mousse is firm, you can serve.
If you don't want to use raw eggs, you can whip egg whites over a pot of boiling water.
Prepare yogurt drops the night before.
Mix together yogurt, cocoa, and sweetener to taste.
Pour the yogurt mixture into a silicone ice cube tray.
If you don't have one, shape this mixture onto a plate into small drops, using a plastic bag or piping bag, and place into the freezer.
If you're not sure whether to prepare these drops or not, trust me – you want them. When they melt, they taste the same as chocolate.
Share this recipe with a friend:
| | | |
| --- | --- | --- |
| | Preparation time | 15 minutes |
| | Yields | 2 servings |
Nutritional information / 1 serving
Calories
44 Kcal
Carbohydrates
4 g
Fiber
3 g
Proteins
3 g
Fat
0 g
I am a fit food wizard nutritionist and I conjure up these healthy and tasty fitness recipes.
My goal is to show you that eating healthy can be easy-breezy.
Lucia Wagner
Comments