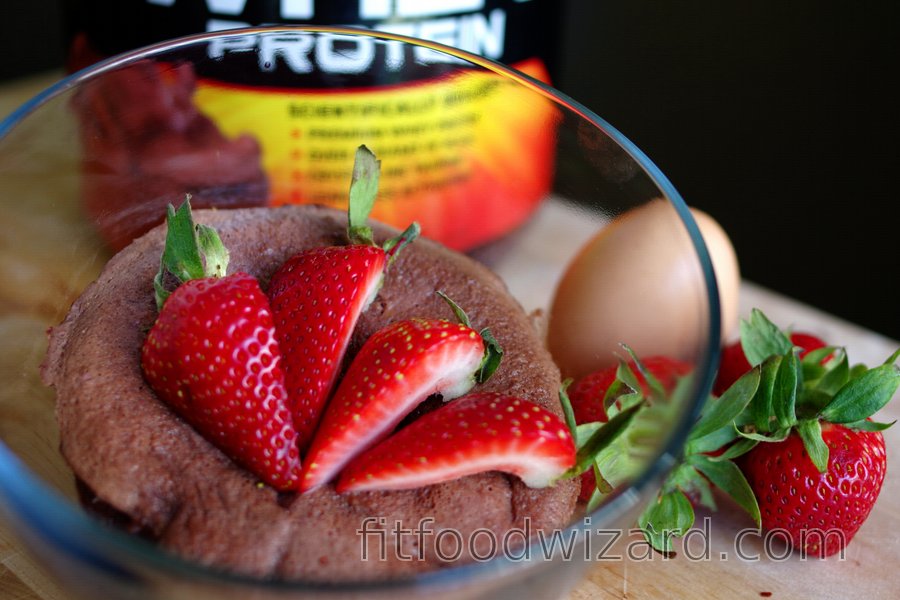 Quick Protein Mug Cake (Gluten-Free, Sugar-free)
This is another quick, sweet, fitness recipe for those who are in a hurry and don't mind the use of microwave. It's an excellent fitness protein mug cake from a microwave for one person, which is literally ready within 3 minutes, including the preparation.
It is suitable for all those of us who get tired of drinking protein from time to time, but they are eager to receive a rich daily dose of protein. The whole cake contains only 165 kcal and up to 24 g of protein, of course, depending on the protein used. I like to make this cake either as a light breakfast, dessert or as an evening post-workout snack. As for protein, I prefer to use vanilla, coconut or chocolate flavored protein in this recipe, preferably concentrate. Prepare this fitness dessert in a wider mug or smaller bowl.
And if you just desire a decadent dessert, you can complete this protein mug cake with a scoop of homemade ice cream, e.g. banana ice cream, that can be prepared easily by blending frozen bananas with a little bit of milk or protein.
This fit protein mug cake contains no flour or sugar, is low carbohydrate and the recipe is very easy, check it yourself. Beware, after baking, the bowl and cake will be very hot.
Ingredients
1 scoop of protein powder (of your choice) (I recommend this one)
1 egg
3 Tbsp milk
⅓ tsp. baking powder
sweetener (if using unsweetened protein)
Instructions
Place all ingredients into a big mug or a small bowl and stir.
Microwave for 1 minute and then on high power for another 30 seconds.
| | | |
| --- | --- | --- |
| | Preparation time | 2 minutes |
| | Yields | 1 serving |
Nutritional information/ 1 serving
Calories
165 Kcal
Carbohydrates
4 g
Fiber
1 g
Proteins
24 g
Fat
6 g