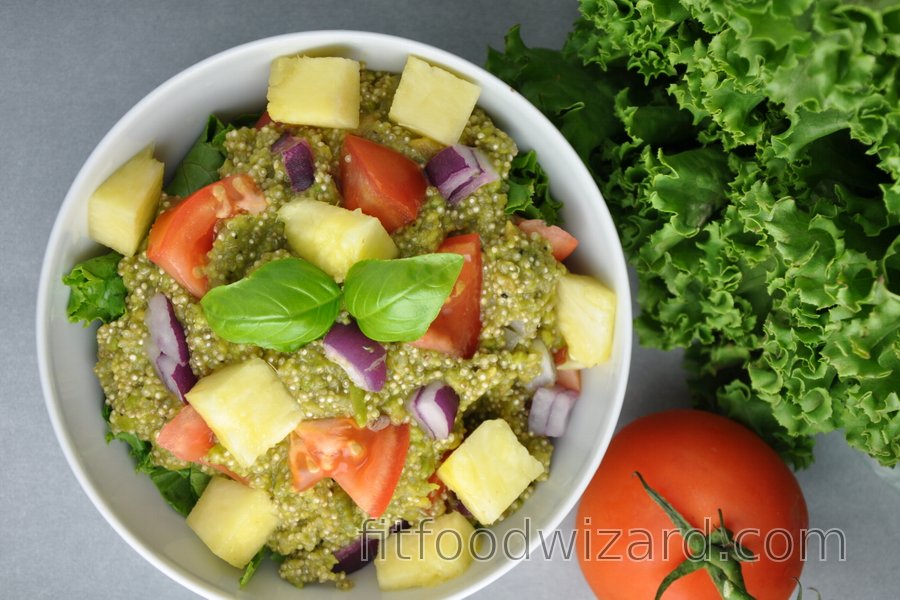 I introduce you healthy and tasty salad with quinoa, that will fill you up and supplies a body with a lot of health beneficial fats, vitamins and minerals. Let's enjoy this quinoa in guacamole.
For South-americans, quinoa is an irreplaceable food and is a healthier, gluten-free alternative to our wheat. It is one of the world's healthiest foods and is a source of essential amino acids, fiber and iron. You can prepare it in both sweet and savory ways to support your health and keep your body slim.
The Aztecs themselves have been enjoying guacamole, in ancient times. Today it is the privilege of Mexican cuisine, however we like to be inspired by everything that is healthy and tasty. The most important ingredient of guacamole is avocado, it contains plenty of vitamins, minerals, healthy fats, lots of fiber and contains no cholesterol or sodium at the same time.
To enrich the flavors, add juicy pineapple into this quinoa with guacamole recipe. It helps to burn fat, will do spring cleaning in your intestines, and you will appreciate its effects when you are sick and cold. Or you can add tropical mango - unique with its smell and flavor. It supports overall health, helps reduce weight, takes care of the heart, and helps diabetics.
Try out this easy recipe for savory-sweet salad quinoa with guacamole, as quick healthy breakfast or rich dinner.
Ingredients
1 avocado
1 tomato (or 5 cherry tomatoes)
juice of 1 lime
½ cup quinoa (uncooked) (I recommend this one)
1 clove garlic
150g (5.3oz) pineapple/mango
lettuce
1 tsp parsley
¼ red onion
a pinch of ground black pepper
a pinch of sea salt (I recommend this one)
Instructions
Cook quinoa in 1 cup of water.
In a bowl, mash avocado and mix in lime juice, crushed garlic, spices, and salt.
Stir the mixture thoroughly and add remaining ingredients cut into small pieces.
Serve salad either immediately or cold.
| | | |
| --- | --- | --- |
| | Preparation time | 15 minutes |
| | Yields | 2 servings |
Nutritional information/ 1 serving
Calories
341 Kcal
Carbohydrates
41 g
Fiber
9 g
Proteins
9 g
Fat
14 g