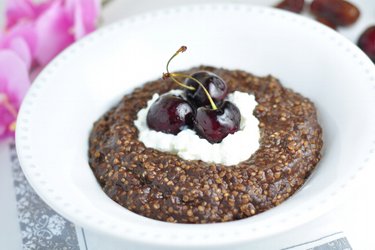 Quinoa Porridge with Coffee and Cocoa
Share this recipe with a friend:
Have you ever tried to prepare a breakfast porridge with coffee? Believe me, it's a great choice for mornings that will kick-start you into a new day. Moreover, together with cocoa they form an irresistible couple. Healthy quinoa porridge with coffee and cocoa represents a nutritionally valuable and exceptionally tasty breakfast with quinoa, chia seeds and cocoa that you can have on the table in just a moment.
Quinoa is a naturally gluten-free, easy-to-digest superfood. It has a high protein and fiber content and a balanced ratio of amino acids. It tastes great, and interestingly at the same time. If somebody hasn't tried it yet, I definitely recommend to do so. Feel free to start with this fit breakfast recipe. It is a perfect source of vitamins and minerals and can be easily used in both savory and sweet recipes. It has a slightly nutty flavor and should be rinsed before cooking. You can use cow's milk or any plant-based milk in the recipe, therefore you can also prepare this quinoa porridge in a vegan version. In case you don't want to use chia seeds in the recipe, reduce the amount of milk by half.
Quinoa porridge isn't more complicated to prepare than its oatmeal variation, so really anyone can prepare such tasty and unconventional breakfast. It tastes great when served hot, as well as cold. And I prefer to serve it with cherries the most, yummy!
You will enjoy this healthy quinoa porridge with coffee and cocoa for sure, and in addition, it's prepared in less than 15 minutes. Treat yourself with this healthy and nutritious breakfast with unique taste.
Instructions
In a small pot, mix together dry quinoa, cocoa or carob, chia seeds and ground coffee.
Pour the mixture with milk and add finely chopped dates or honey.
Bring contents of the pot to a boil and cook on medium heat while stirring occasionally, until quinoa and chia seeds do absorb almost all of the liquid.
The final consistency should resemble pudding.
Divide the quinoa porridge into bowls or cups, drizzle it with yogurt or cottage cheese, top off with fruit and serve either warm or cold.
Share this recipe with a friend:
| | | |
| --- | --- | --- |
| | Preparation time | 15 minutes |
| | Yields | 2 servings |
Nutritional information /
Calories
372 Kcal
Carbohydrates
52 g
Fiber
11 g
Proteins
19 g
Fat
8 g
I am a fit food wizard nutritionist and I conjure up these healthy and tasty fitness recipes.
My goal is to show you that eating healthy can be easy-breezy.
Lucia Wagner
Comments